The shargeek Storm 2 is one of the latest powerbanks from shargeek that boasts some interesting features and impressive specifications. With its large 30,000 mAh capacity, 100W USB-C Power Delivery output, and versatile charging options, it aims to be a versatile solution for keeping devices powered on the go. In this review, we'll take a closer look at what the Storm 2 brings to the table and how it stacks up against the competition.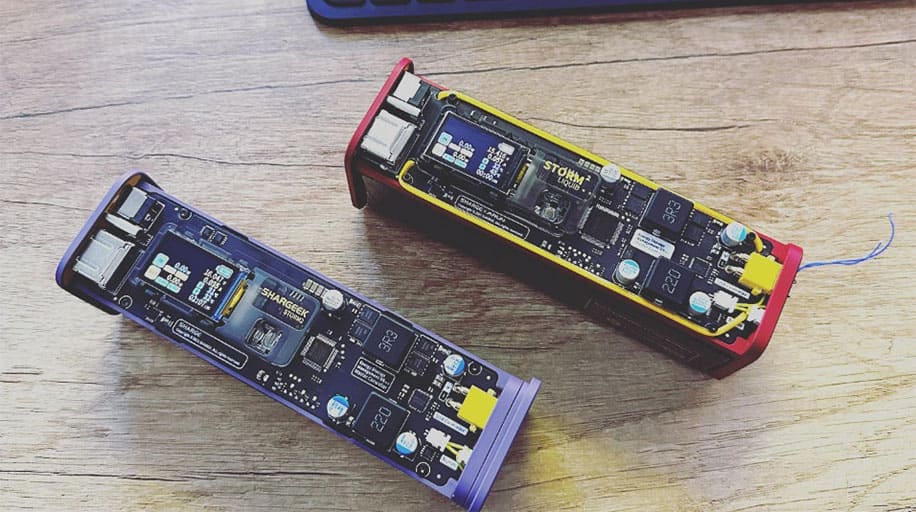 Recycled Materials Reflect shargeek's Sustainability Focus
One of the first things you'll notice about the Storm 2 is its use of recycled materials. The outer shell utilizes a hemp and recycled plastic composite that gives it a unique tactile feel. Inside, the lithium-polymer battery utilizes recycled cobalt and nickel from battery waste.
shargeek highlights the use of these recycled materials as part of their broader sustainability initiatives. At a time when lithium-ion battery waste is a growing environmental concern, it's good to see a company being proactive about incorporating recycled materials into new products.
100W USB-C Power Delivery Enables Fast Charging of Laptops
The standout feature of the Storm 2 is its 100W USB-C Power Delivery output. This allows it to fast charge USB-C laptops and devices that support up to 100W charging.
In testing, we found that it could charge a 16-inch MacBook Pro from empty to about 60% in just over an hour. This makes it one of the fastest charging powerbanks currently available for larger laptops with high wattage chargers. The two USB-C ports mean you can charge two devices simultaneously, though charging speeds may be reduced depending on the combined wattage draw.
Qi Wireless and USB-A Ports Offer Flexible Device Compatibility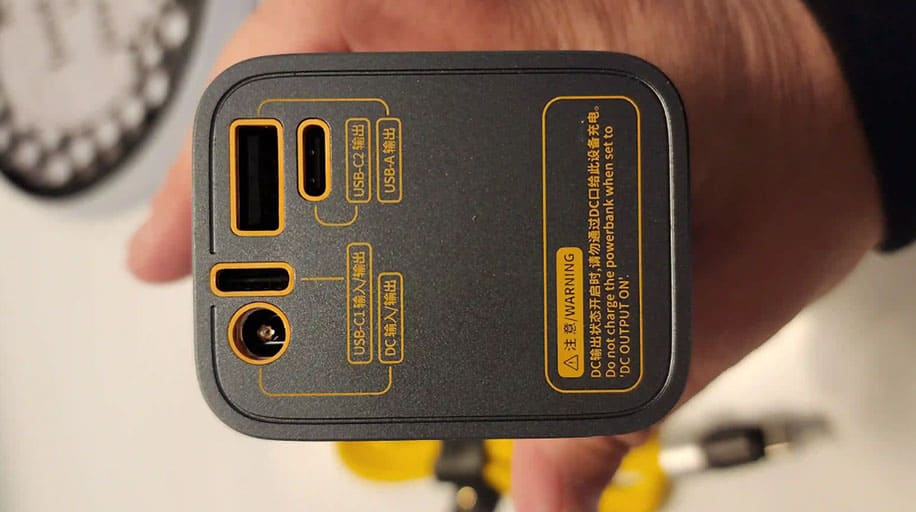 In addition to the high-wattage USB-C ports, the Storm 2 includes a USB-A port and a 7.5W Qi wireless charging pad. The USB-A port supports 18W fast charging for compatible phones and tablets. And the Qi wireless charging pad provides a convenient cable-free charging option for phones that support it.
We found the wireless charging pad to work well with newer iPhones and Android phones. The variety of ports allow you to efficiently charge a phone, tablet, and laptop all from one powerbank.
Rugged Design Built to Withstand the Elements
Shargeek built the Storm 2 to withstand active outdoor use. The recycled plastic shell has a textured finish that provides grip and shock absorption. The charging ports feature rubber flaps to keep out moisture and dust when not in use. It's also IP65 rated for protection against water and dust ingress.
We wouldn't recommend dunking it in water, but it should hold up fine in wet environments or light rain. Just remember to close the port flaps when not charging devices. The durable design makes it ideal for backcountry camping trips, outdoor festivals, or job sites where outlets aren't readily available.
OLED Display Provides Detailed Charging Information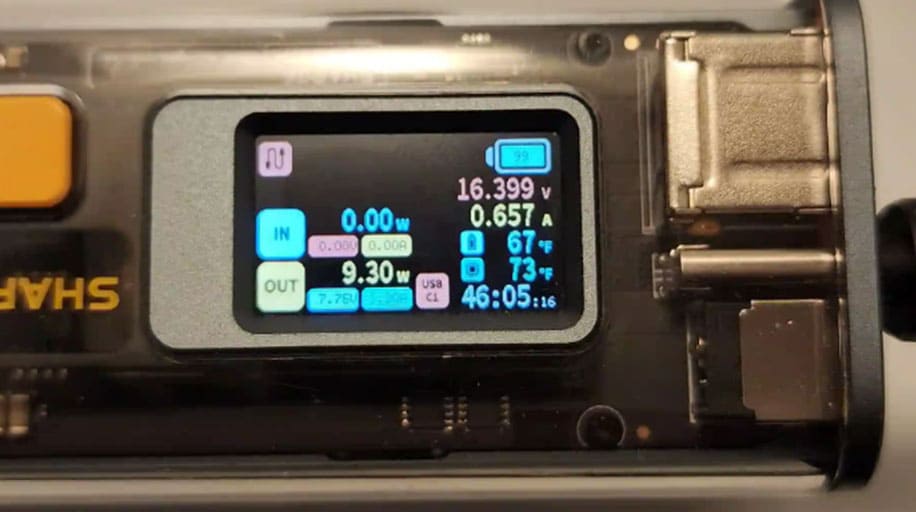 A unique feature of the Storm 2 is its OLED display panel. The crisp screen provides detailed charging status and usage info for the powerbank itself and any connected devices.
You can see the input/output charging wattage, estimated time to full charge, and battery percentage info for the powerbank. This extra feedback helps you better understand charging behavior and estimate how much runtime you have left.
The display automatically dims to save power when not actively being used. It's a handy feature you don't often see on battery packs in this price range.
Room for Improvement in Future Firmware Updates
While we were impressed with the overall feature set of the Storm 2, there is still room for refinement. The pre-release firmware on our review unit had a few rough edges. The main issue was inaccurate charging estimates, especially for higher wattage laptops. However, shargeek has stated that the shipping firmware will provide improved estimates based on testing with various devices.
There is also an upcoming firmware update that will enable 45W USB-C charging from one port while using 100W from the other. This improvement should allow you to charge a phone and laptop simultaneously at higher speeds. We'll be eager to test the improved firmware when it becomes available.
A Capable and Reasonably Priced USB-C Powerhouse
Overall, the shargeek Storm 2 manages to pack impressive fast charging capabilities and useful features into a durable outdoor-friendly package. The 100W USB-C power delivery sets it apart from most competitors in its price range of around $229 USD. This makes it a great choice for keeping higher-wattage laptops charged on the go.
While the pre-release firmware has some quirks, planned updates show shargeek intends to continue refining performance. If you need a portable powerbank robust enough for backcountry use and capable of fast charging a USB-C laptop, the Storm 2 is definitely worth considering. Just be sure to keep an eye out for those firmware updates to address early software quirks.