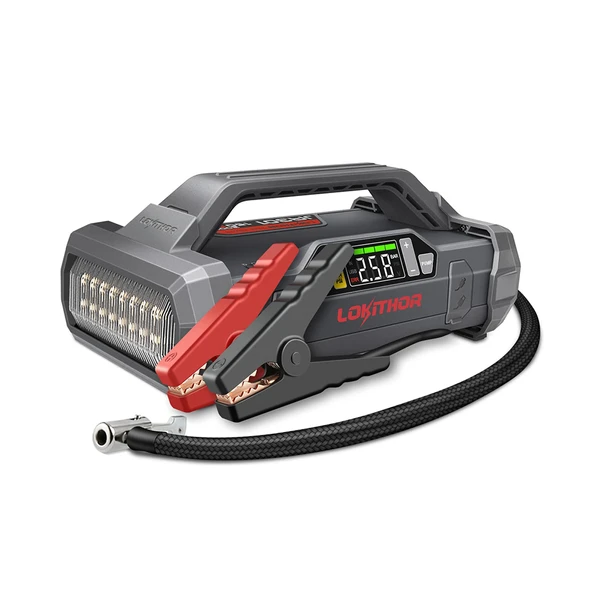 LOKITHOR JA301 2000A Jump Starter with Air Compressor
Features
● Serves as a jump starter, a tire pump, a power bank, and a LED flashlight. Compatible with many vehicles, including cars, motorcycles, boats, RVs, ATVs, SUVs, vans, tractors, and mowers.
● Super starting current of 2000A jump-starts a dead battery in 1-3 seconds with up to 40 jump-start times for regular use. Professionally calibrated always to display the tire's pressure within 1.0%. Ultra-long standby time of at least 900 days.
● Only needs 5 minutes to inflate the 195/65/R15 car tire from 0 to 35 PSI with a maximum pressure of 150 PSI and airflow of 35L/Min. Suitable for gasoline engines under 8L and diesel engines under 6L.
● Supports fast charging with USB 3.0 compatibility. Output: 5V/3A and 9V/2A, Input: 5V/3A and 9V/2A. Integrated 300-lumen LED flashlight with three lighting modes: constant light, flash, and SOS.
● Able to detect the voltage of the car battery in real-time and trigger an alarm for abnormal conditions. It's manufactured with the unique Turbocharged Movement, which provides more power, stability, and less noise.
● Comes with the latest BMS power management system, including short-circuit protection, over-current protection, reverse connection protection, over-heat protection, over-time protection, and clip falling-off protection. The air pump jump starter also supports tire-pressure detection and preset values stopping.