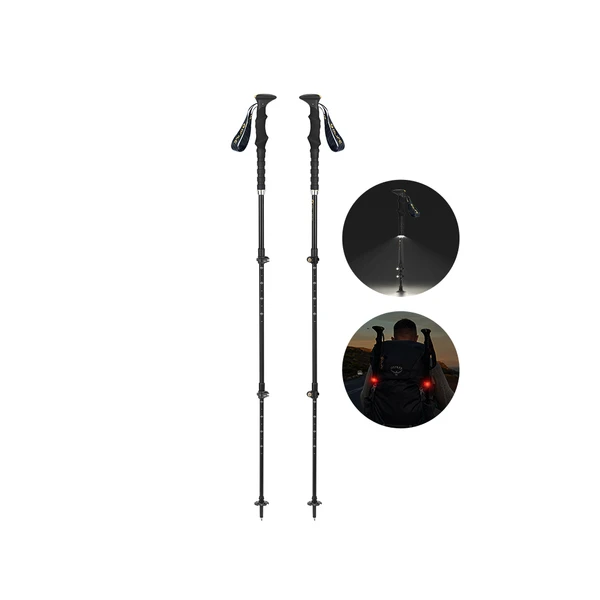 OLIFE Beamwalk T3 II Lighted Trekking Poles
Features
● Upgraded Version of Beamwalk T3. See the Description Section for enhancements.
● Unique, Patent Pending Design: Innovatively integrate 360-degree lighting to illuminate trails and camp areas while still being lightweight.
● LED Lighting: Each light is equipped with a dual-color COB LED and a removable 1,300 mAh battery pack to deliver a max output of 120 lumens and 30 hours max runtime.
● 2 Light Modes: Enjoy Motion Mode with neutral white and red light settings, or Constant Mode with stepless dimming for neutral white light. Both modes have a memory function.
● Red/Flashing Red Lighting: The red light works well as a warning light or to preserve night vision, while the flashing red light is great for emergency signaling.
● Handy Standby Function: The Motion Mode also includes a 30-second standby function that activates a blinking red light after 30 seconds of no movement, saving power and serving as a reminder.
● Multipurpose: It also provides supplemental light for walking in the dark whether it is in the park, while walking your dog, hunting, or many other situations.

Bundle:
OLIFE Beamwalk T3 II Lighted Trekking Poles (Pair)

OLIFE Beamwalk T3 II Lighted Trekking Poles (Pair)

OLIFE Beamwalk T3 II Lighted Trekking Poles (2 Pairs)