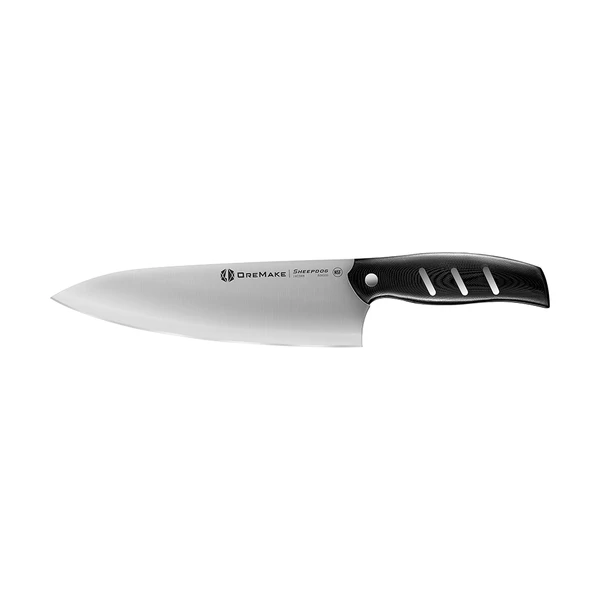 OREMAKE Sheepdog 8'' Chef's Knife
Features
Ergonomic Handle Design: Ergonomically shaped handle, inspired by the classic Sheepdog folding knives, fits comfortably in your hand, reducing fatigue.

Well-Balanced: Its balance point is optimally located between the handle and blade for utmost control and comfort.

Ultra-Sharp Blade: Durable full tang construction stamped from Sandvik 14C28N steel with a blade rated at 58±1 HRC (Rockwell) and its cutting edge hand-sharpened to a 15-degree angle per side provides exceptional sharpness, great edge retention, and easy sharpening.

Long-Lasting G10 Handle: The G10 handle is highly resistant to heat, cold, water penetration, as well as acids, and it will not deform, break, chip, or wear. It is well-polished for easy cleaning.

Elegant Style: 3 steel strips on both sides of the handle offer a sense of luxury to the knife.

Protective Sheath: Included sheath offers great protection when carrying and storing the knife.

NSF Certified: Made of premium materials through a high-quality manufacturing process and certified by NSF (National Sanitation Foundation), the global leader in health standards.