The OreMake Sheepdog knife series strives to meet the needs of culinary enthusiasts. This OreMake Sheepdog 8'' Chef's Knife with a look inspired by Sheepdog pocket knives makes daily meal prep a breeze. It features a stamped full tang construction made from Swedish Sandvik 14C28N steel that offers a combination of incredible toughness, excellent corrosion resistance, and ease of sharpening. The knife is perfectly balanced with an ergonomic, steel-accented G10 handle for comfortable control and a high-end look.
This Western-style chef's knife is designed for chopping, slicing, dicing, and mincing meat, fish, vegetables, and herbs. It is also excellent for cutting fruits.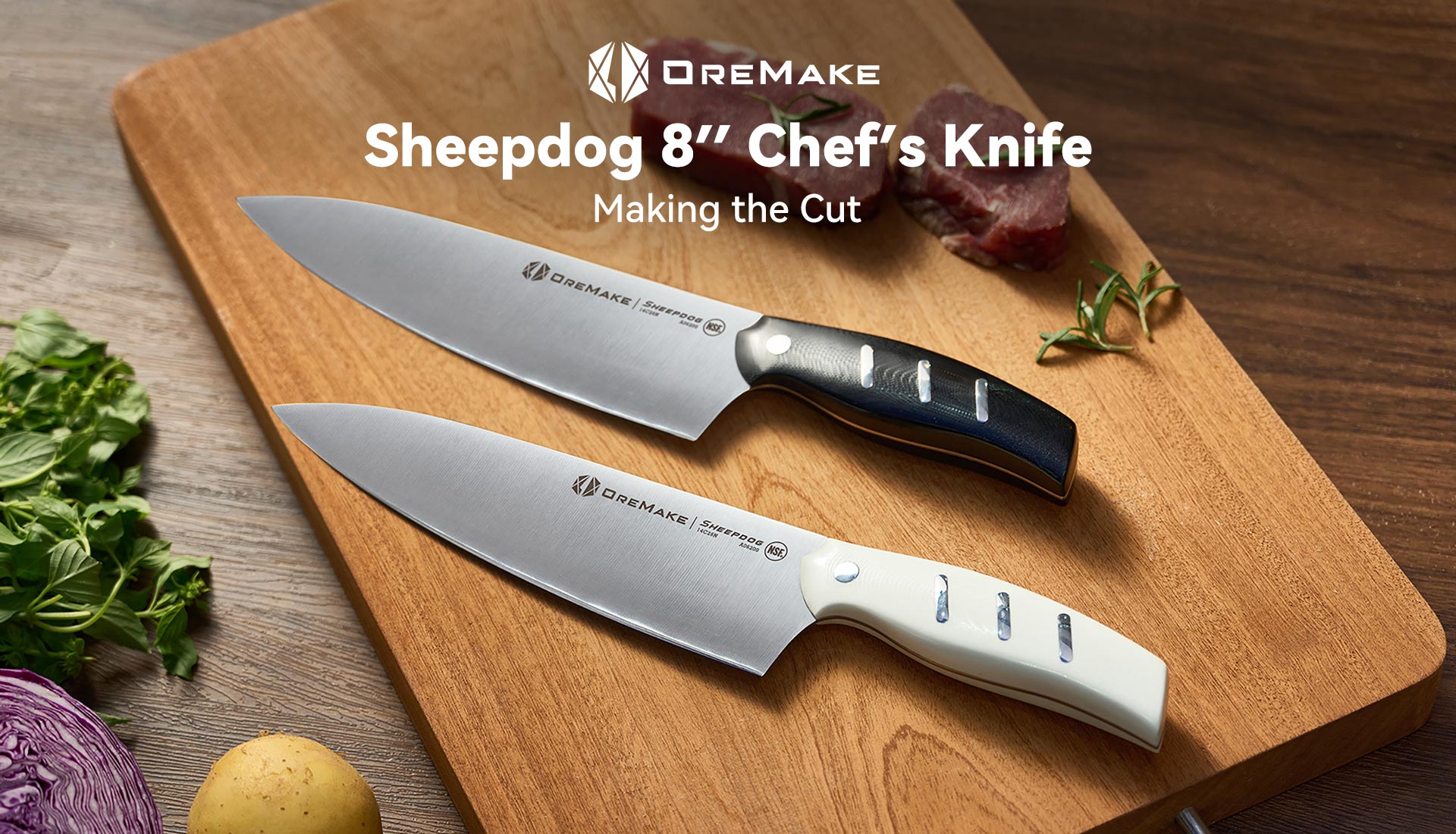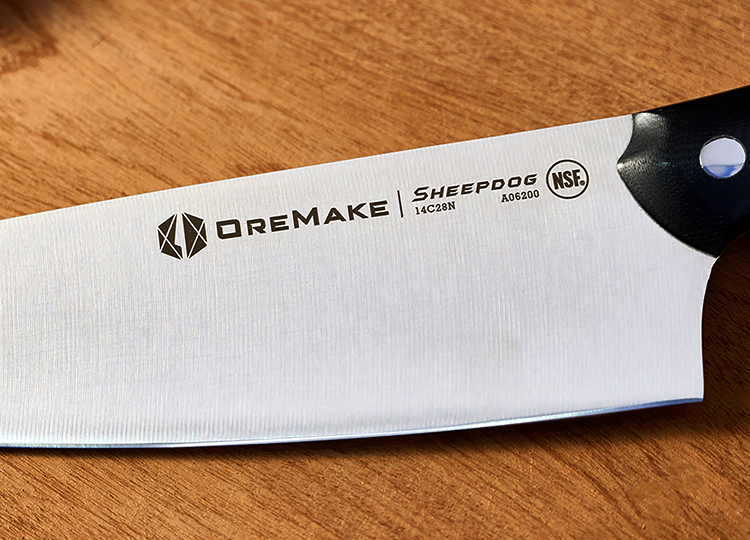 Superior Blade Performance
Made from Swedish Sandvik 14C28N steel and tempered to 58±1 HRC (Rockwell), the knife's blade is easy to sharpen and offers incredible toughness and razor-sharpness for many kitchen tasks.
Superb Comfort
Its comfortable, precisely engineered, and ergonomically shaped handle is inspired by the classic Sheepdog folding knives. Crafted from G10, the handle is highly resistant to heat, cold, and water. It is almost unbreakable in normal use, and it is well-polished for easy cleaning.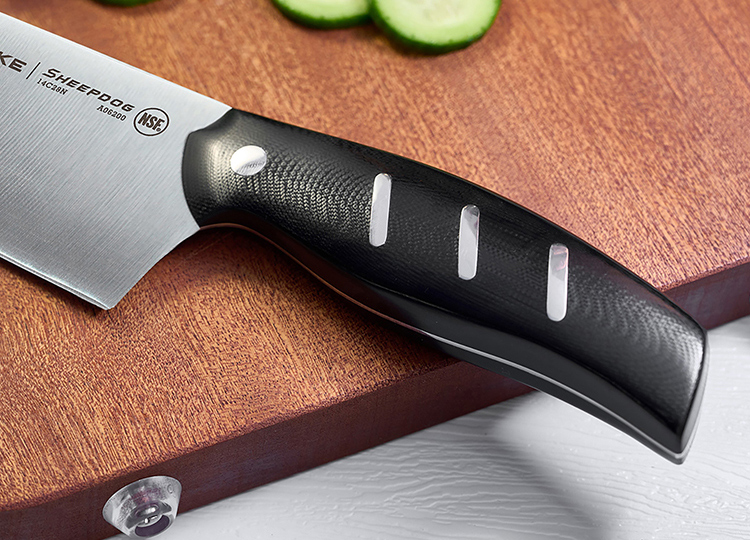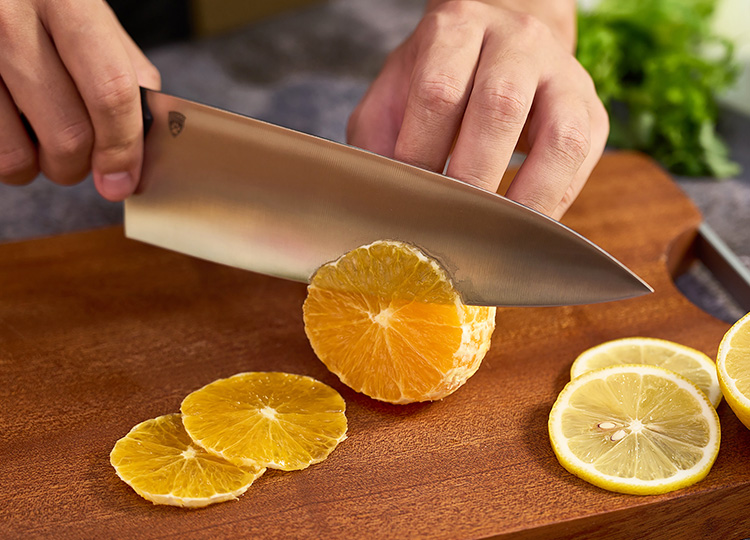 Effortless Cutting
The 0.08' thin blade's cutting edge has been hand-sharpened to a 15-degree angle per side, so it glides effortlessly through food with clean, precise cuts.
Perfect Balance
This chef's knife is optimally balanced around the butt of the blade, right at the point where you'll be gripping it, to deliver utmost control and comfort.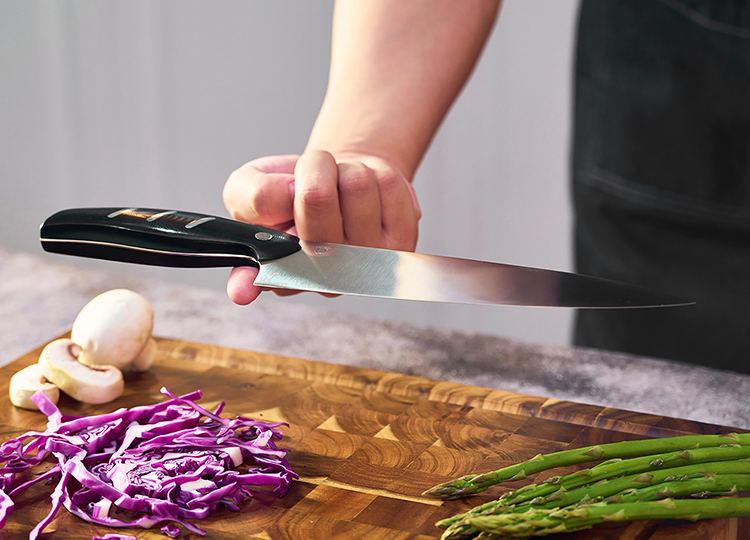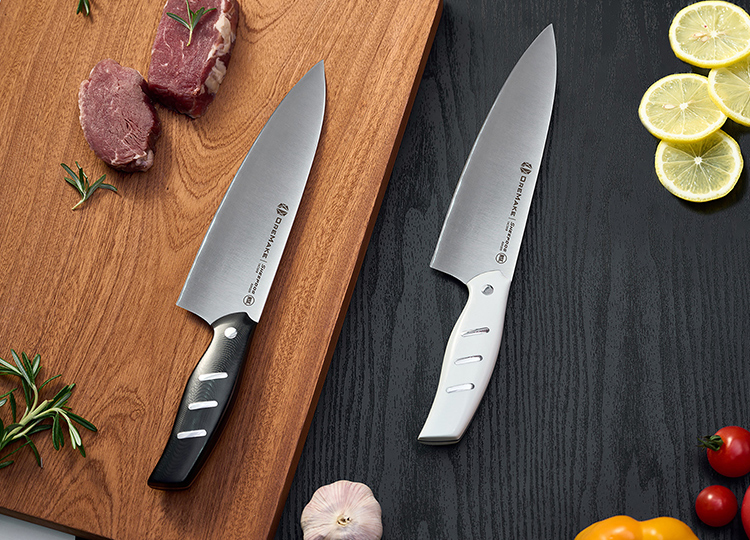 Elegant Style
The three steel strips inlaid on each side of the handle bring a sense of luxury to the knife. Whether you purchase one knife or the whole set, the OreMake Sheepdog will look great in your kitchen and enhance every cooking experience!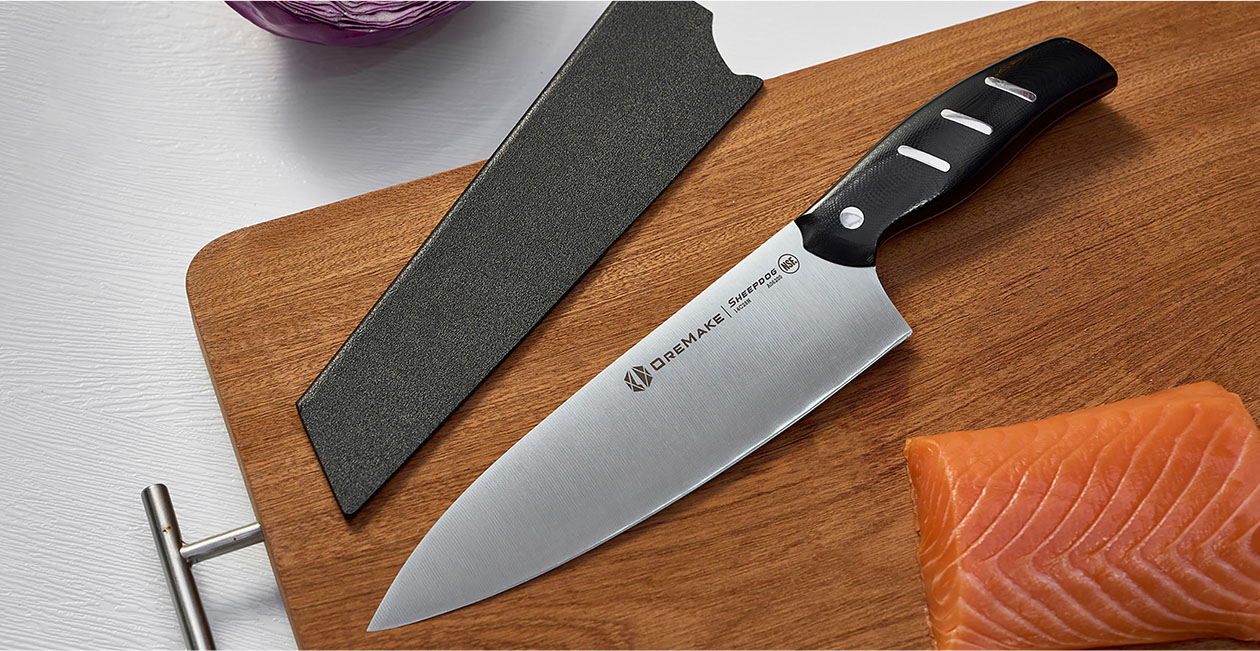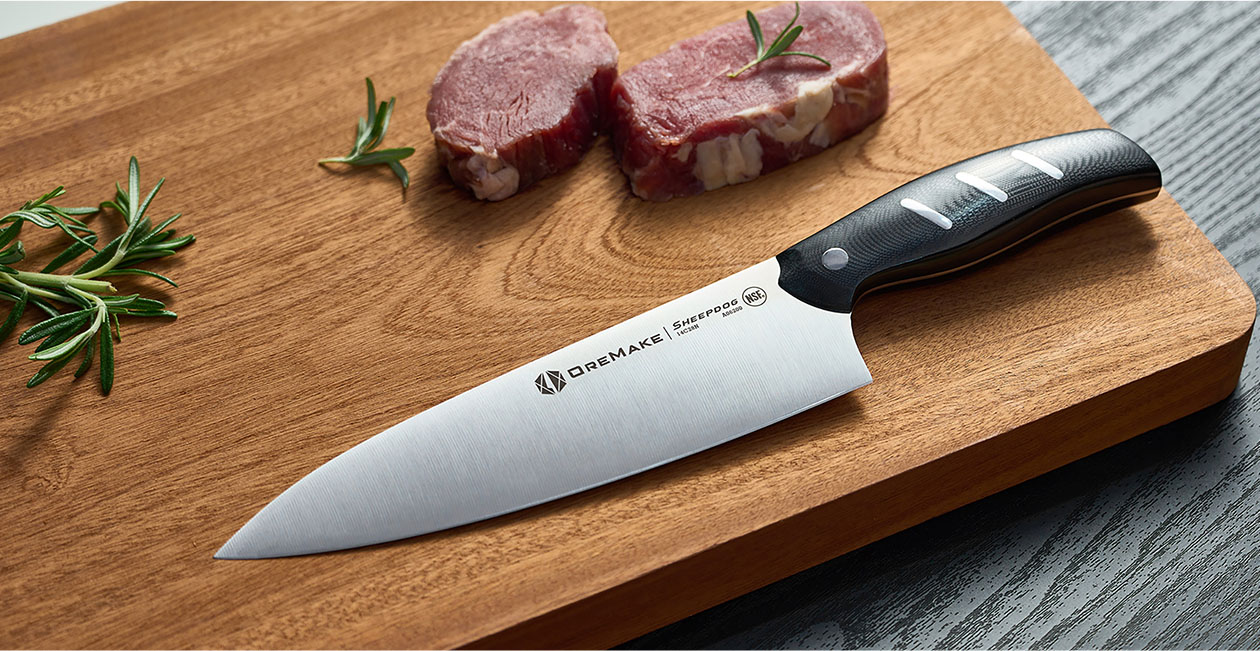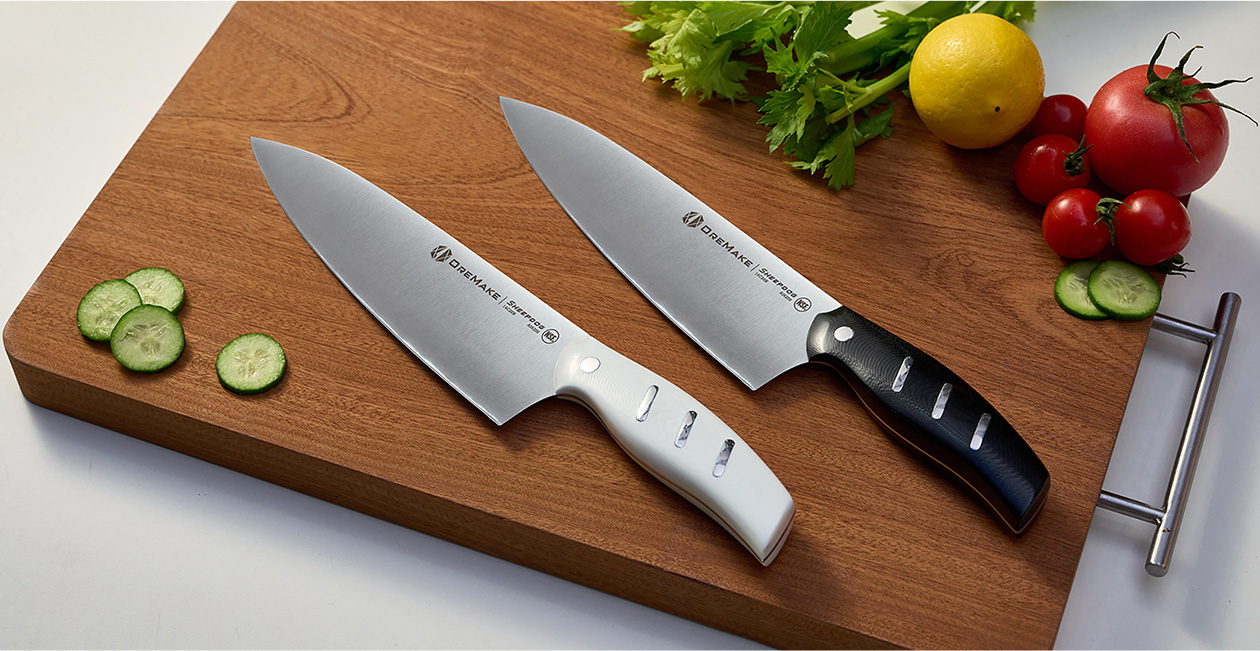 Blade Material
Sandvik 14C28N Steel
Blade Manufacturing Method
Stamped
Handle Thickness
0.91 in (23 mm)
Handle Length
5.1 in (129.6 mm)
Blade Thickness
0.08 in (2 mm)
Blade Width
2.2 in (56 mm)
Overall Length
12.8 in (325 mm)
Overall Width
2.36 in (60 mm)
Blade Length
7.99 in (203 mm)
Package Contents
1 x Knife, 1 x Sheath
Chronological Order
|
Default Sort Order