The OREMAKE Sheepdog Knife Series is designed to delight even the most selective culinary enthusiast with knives that combine exemplary performance and outstanding aesthetics. The 8" Damascus Serrated Bread Knife boasts forged, 45-layer construction that creates an eye-pleasing Damascus pattern while protecting and strengthening the blade's core. Its AUS-10 steel core provides extraordinary performance and edge retention. The extremely ergonomic, brass-accented G10 handle provides a comfortable grip and a high-end look.
This sharp and sturdy knife is expertly designed to finely slice bread, tomatoes, pineapples, and other large fruits, sausage, cabbage, squash, and more.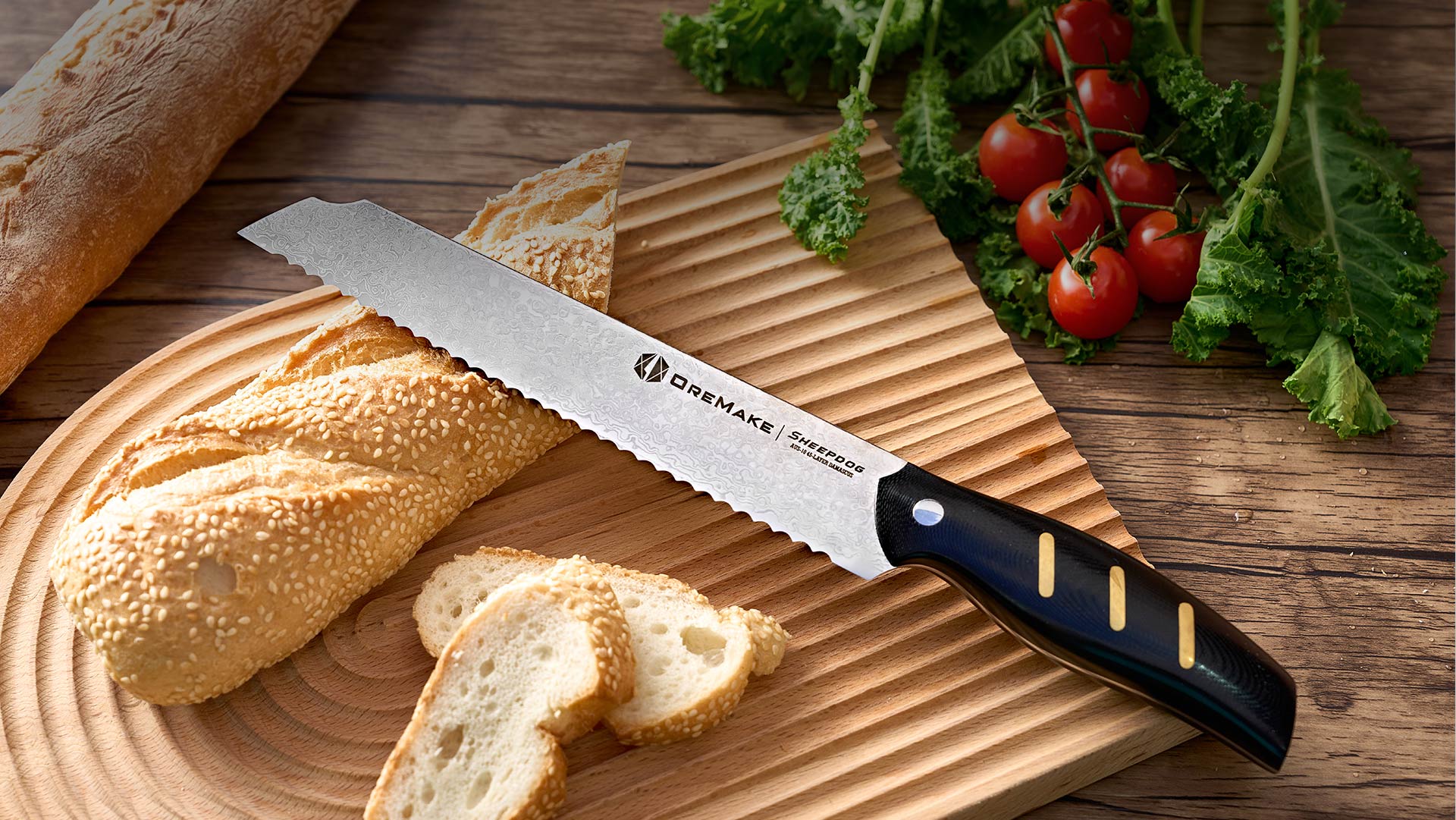 OreMake
Sheepdog Damascus 8" Serrated Bread Knife
Making the Cut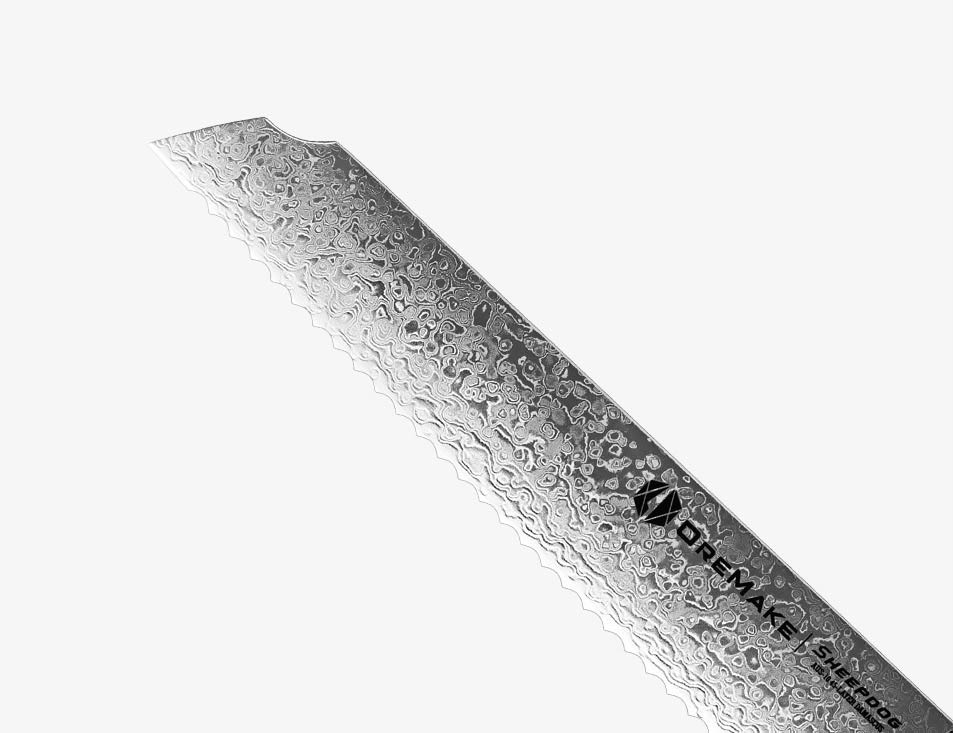 Premium Damascus Steel
The forged, 45-layer construction and high-performance AUS-10 steel core provide extraordinary cutting performance and edge retention. The core boasts a hardness of 60±2 HRC (Rockwell), achieved by vacuum heat treatment, which results in a sharp blade that holds its edge well. The core is flanked by 22 layers of stainless steel on either side for added corrosion resistance.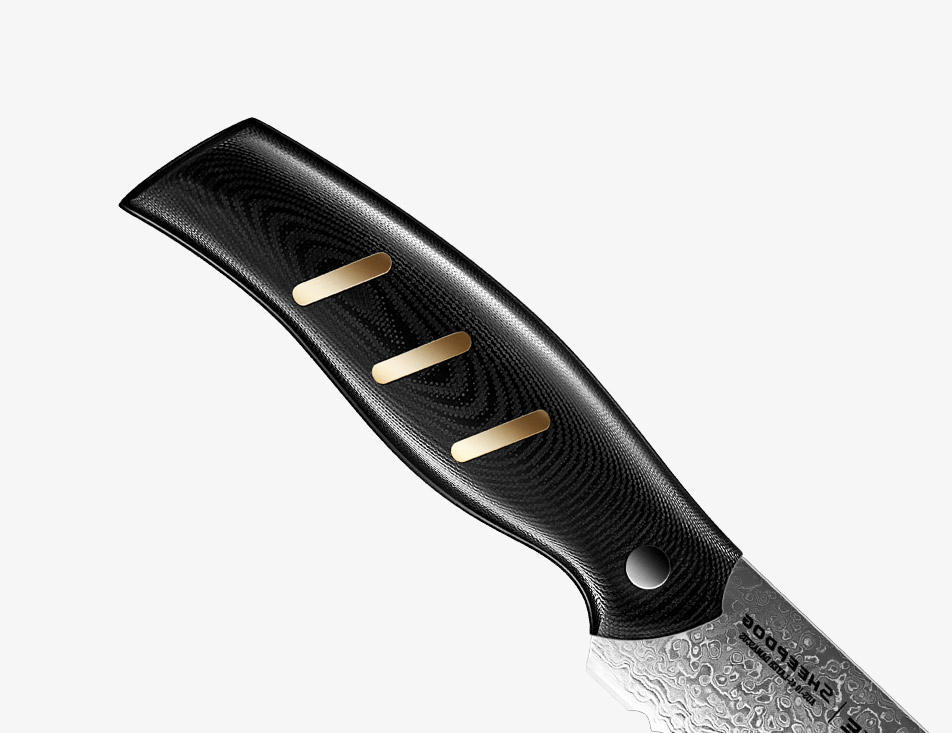 Superb Comfort
Its comfortable, precisely engineered, ergonomically shaped handle is inspired by the classic Sheepdog folding knife. Crafted from G10, the handle is highly resistant to heat, cold, and water. It is almost unbreakable in normal use, and it is well-polished for easy cleaning.
Efficient Slicer
The serrated edge of the 8" Serrated Bread Knife looks and functions a bit like the teeth of a saw, though much more precisely. Almost no pressure is required to cut any sort of bread, even with a very hard crust, so your bread is never flattened as it is cut. This makes for less waste as well as a much more appealing presentation.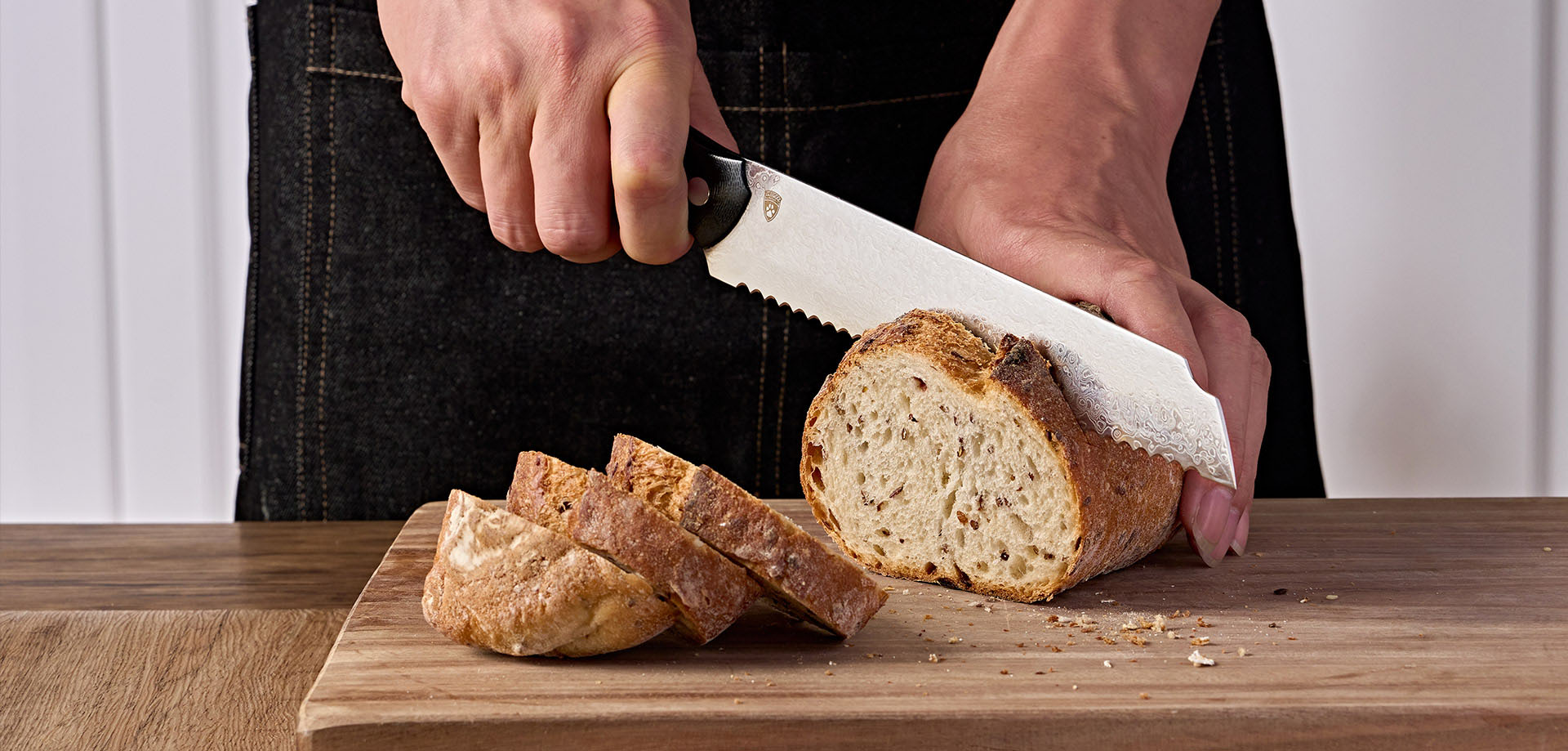 Elegant Style
The beautiful Damascus pattern on the blade and the three brass strips inlaid on each side of the handle bring a sense of luxury to the knife. Whether you purchase one knife or the whole set, the OreMake Sheepdog will look great in your kitchen and enhance every cooking experience!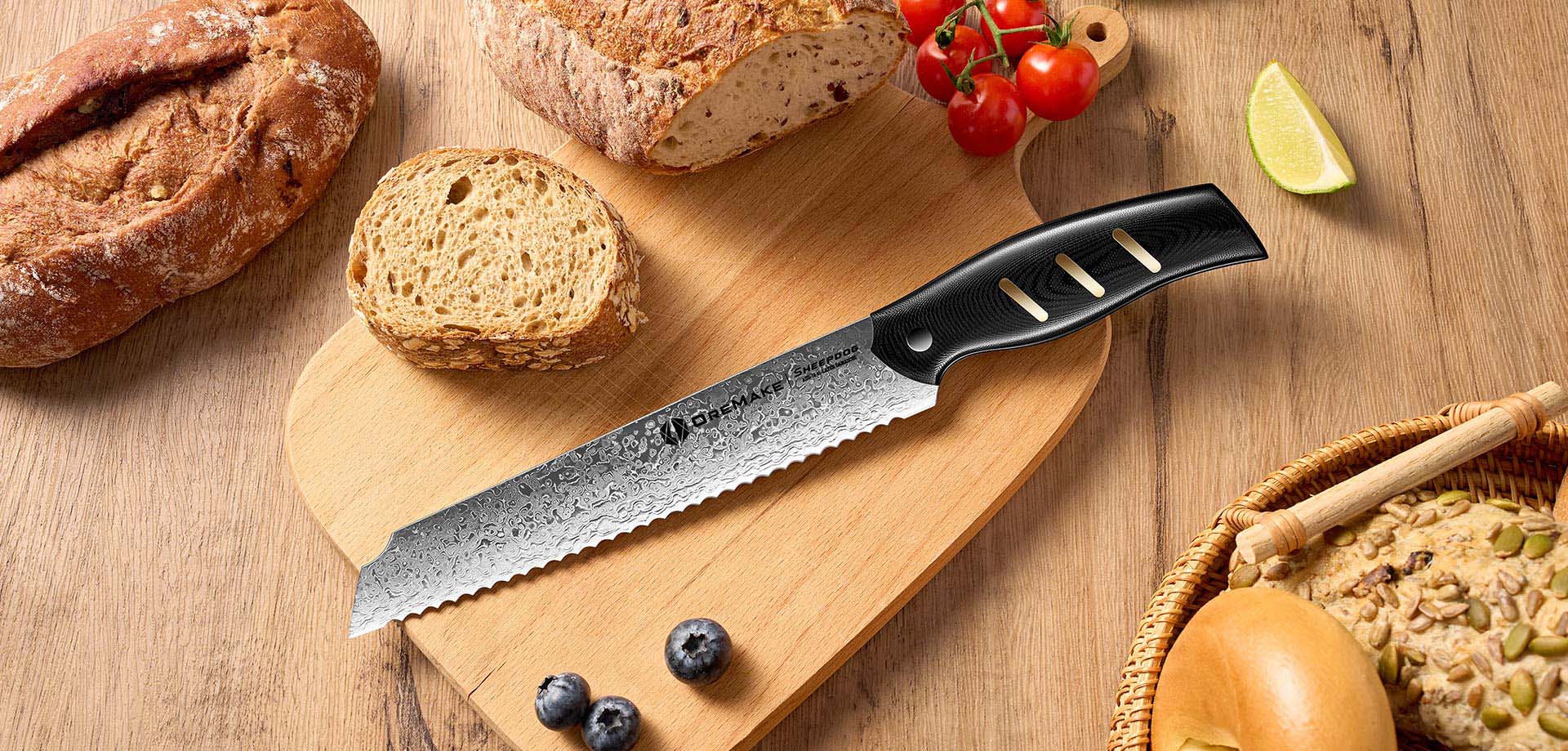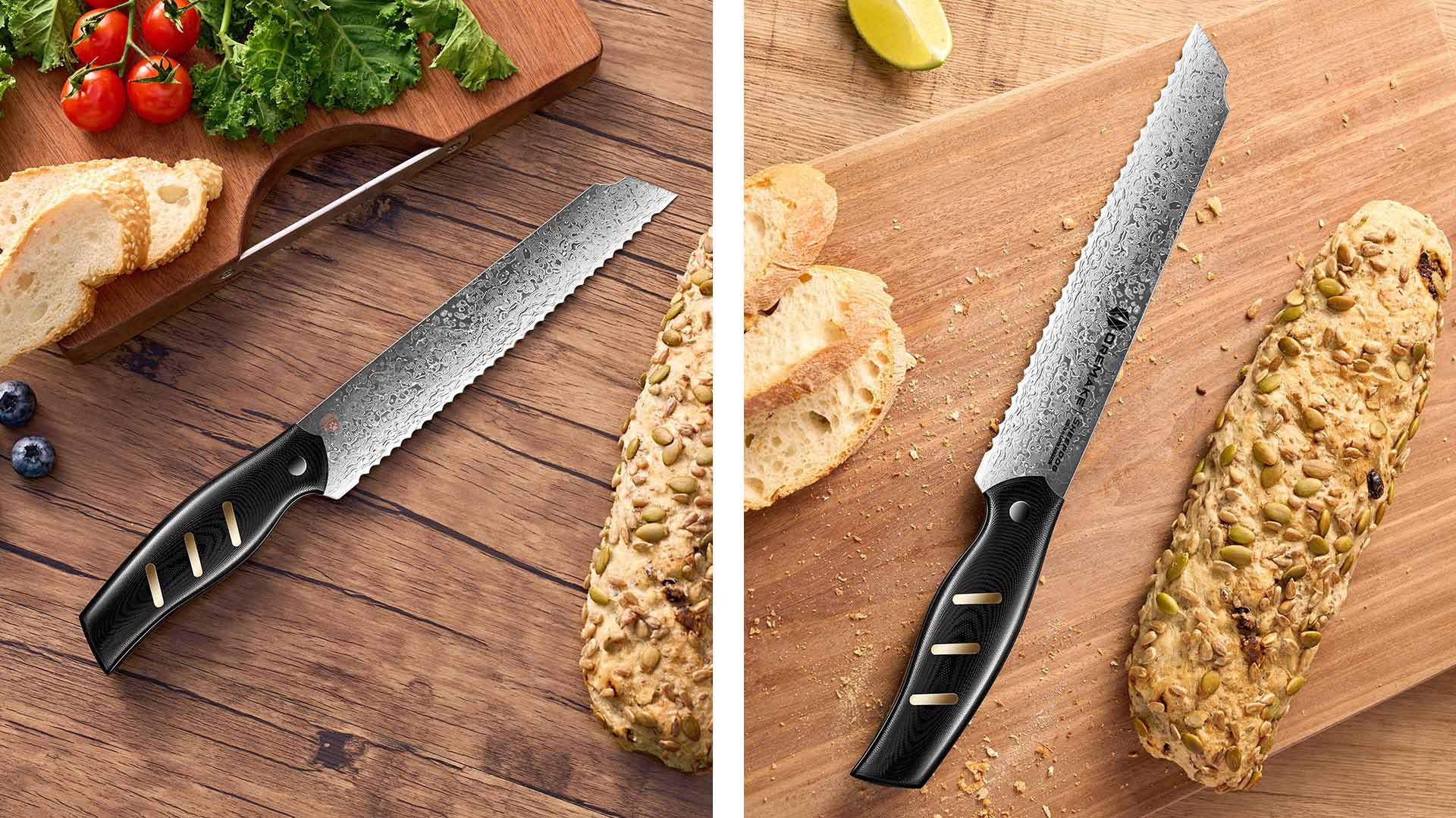 Blade Material
AUS-10 45-Layer Damascus Steel
Blade Core Hardness
60±2 HRC
Blade Length
7.99 in (203 mm)
Overall Length
12.68 in (322.1 mm)
Blade Width
1.42 in (36 mm)
Blade Thickness
0.07 in (1.9 mm)
Handle Length
5.12 in (130mm)
Handle Thickness
0.91 in (23 mm)
Blade Manufacturing Method
Forged
Package Contents
1 x Knife, 1 x Sheath, 1 x Cleaning Cloth
Chronological Order
|
Default Sort Order