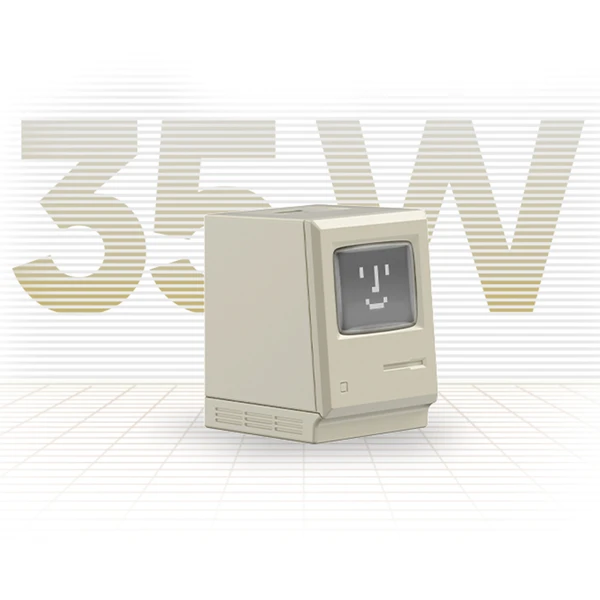 SHARGEEK Retro 35 GaN Charger (Standard)
Features
High-Speed Charging: Powered by GaN technology, the Shargeek Retro 35W GaN charger can deliver full-speed 35W charging for earphones, phones, tablets, and even laptops. Power up your iPhone 14 from 0% to 50% in just 30 minutes, while maintaining a low temperature, which is safer than ordinary chargers.

Multiple-Device Compatibility: Upgraded with a 35W USB-C output so you can charge your phone with a tiny USB-C charger.

A Homage To The Classic: This USB charger restores the Macintosh monitor in an equivalent ratio, bringing back nostalgia. The unique computer shape makes Retro 35W not only a phone charger but also a delicate desktop decoration, and a special gift.

Smart LED Display: The display of the USB C charging station has four display modes, white light for no charging, yellow light for normal charging, blue light for fast charging, and green light for super fast charging, clearly displaying the power status while charging.

Foldable & Portable: Its foldable plug ensures maximum portability, carrying more conveniently. Moreover, this wall charger block is designed with over-current, over-voltage, over-heating, short-circuit protection, etc. to keep you and your devices safe.

Please Note: Products with electrical plugs are designed for use in the US. Outlets and voltage differ internationally and this product may require an adapter or converter for use in your destination. Please check compatibility before purchasing.