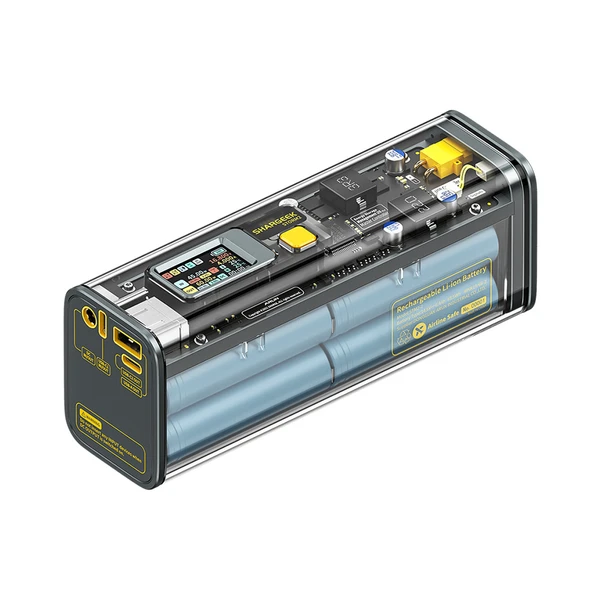 SHARGEEK Storm 2 100W 25600mAh Power Bank
Features
25,600mAh Large Capacity: With a massive 25600mAh capacity, the Shargeek Storm 2 power bank can provide iPhone (18W) up to 7 charges, MacBook (45W) up to 1.2 charges, iPad (30W) up to 2.5 charges, Go Pro/DSLR up to 15 charges. It can power for days, but it only needs 90 minutes to be fully recharged.


Intelligence IPS Screen: The portable phone charger's on-display power management system visualizes the battery life, output distribution, running temp, and DC voltage adjustment in a clear, concise, and intuitive way, showing you the whole process of charging.

World's First See-Through Power Bank: The see-through and transparent design reveals the Storm 2's sophisticated internal structure including built-in batteries, circuit layout, displaying itself from the inside out.

100W PD Fast Charging: The portable laptop charger features a PD 100W USB-C port, which enables it fast charges MacBook Pro 16" from 0% to 50% in 41 minutes with a 100W USB-C cable (included) and charger, 2X faster than the original charger, saving more time for you.

Universal Compatibility: Equipped with 2 USB-C ports, 1 USB-A port, and 1 adjustable DC port, the Storm 2 is compatible with laptops, phones, switch, drones, cameras, and more devices with a DC port, meeting all your charging needs.

Please Note: Products with electrical plugs are designed for use in the US. Outlets and voltage differ internationally and this product may require an adapter or converter for use in your destination. Please check compatibility before purchasing.
Capacity:
25600mAh / 93.5Wh