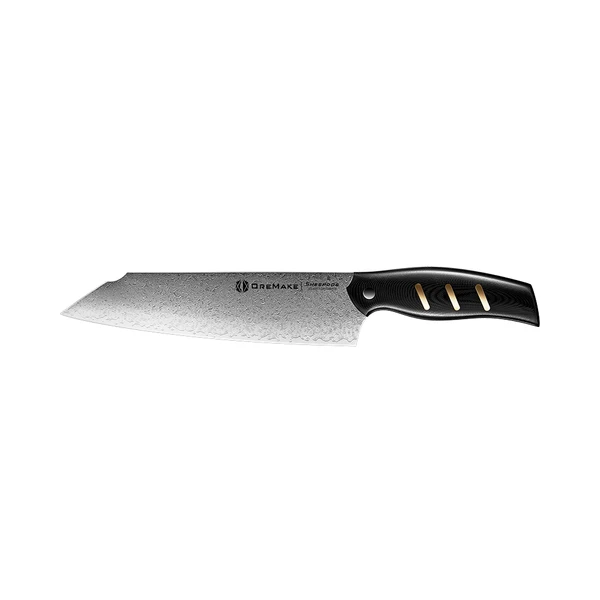 Out of Stock
OREMAKE Sheepdog Damascus 8" Kiritsuke Chef's Knife
Features
● Premium Damascus steel: Forged 45-layer construction with an AUS-10 steel core provides exceptional strength, edge retention, and durability.
● Exceptional sharpness and edge retention: The AUS-10 core boasts a hardness of 60±2 HRC (Rockwell) achieved by a vacuum heat treatment. This results in a sharp blade that holds its edge well.
● Efficient slicer: The 0.07 inches thin blade has a cutting edge hand-sharpened to a 9-13 degree angle per side. It glides effortlessly through food with clean, precise cuts. The reverse tanto tip allows delicate precision work.
● Superb comfort and control: The knife is precisely engineered. Its comfortable, ergonomically shaped handle is inspired by the classic Sheepdog folding knife, and its balance point is optimally located between the handle and blade for utmost control.
● Long-lasting G10 handle: The G10 handle is highly resistant to heat, cold, water penetration, as well as acids, and it will not deform, break, chip, or wear. It is well-polished for easy cleaning.
● Elegant style: The beautiful Damascus pattern on the blade and 3 brass strips on both sides of the handle add a sense of luxury to the knife.