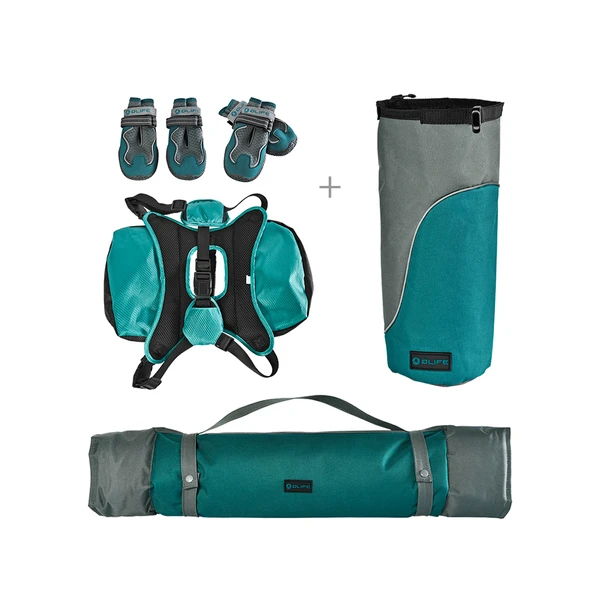 Out of Stock
Outdoor Dog Gear Megapack
Features
OLIFE Pawtour Dog Pack, One Size

● 2 main pockets and 2 smaller upper pockets with waste bag dispensers are great for storing and organizing dog gear.
● Padded handle provides a controlled and comfortable lift to assist your dog when needed.
● Breathable mesh panel helps keep your dog's back comfy.
● Reflective strips and bright color provide high visibility at all times, day or night.
OLIFE Pawtour Breathable Dog Boots (Set of 4), One Size
● Breathable mesh uppers provide ventilation and comfort.
● Rubber outsoles feature a rugged lug design for flexibility and traction on varied terrain, mile after mile.
● Reflective design helps keep your dog visible in low-light conditions.
OLIFE Pawtour Roll-up Travel Dog Sleeping Pad
● Separate carry handle keeps the sleeping pad neatly rolled up for easy transport, but it detaches to provide a smooth, comfortable sleeping surface without any concerns of the handle being chewed up.
● Wear- and tear-resistant 300D Oxford polyester shell with a water-repellent finish ensures durability and prevents moisture and dampness from seeping into the sleeping pad, keeping your dog cozier.
● Soft padding provides comfort and warmth on cold, hard surfaces.
OLIFE Pawtour Travel Dry Dog Food Bag
● Weighing only 2.8 oz, it lets you take dry dog kibble with you on the go.
● Roll-top design allows you to pack the dog food bag down to suit the amount of food you bring and clips securely to form a handle for easy carrying and preventing spills.
● Water-repellent shell and roll-top closure keep out excess air, keep food fresh and dry, and help to seal in food odor.
Bundle:
Dog Pack + Boots + Sleeping Pad + Food Bag

Dog Pack + Boots + Sleeping Pad + Food Bag
Dog Boots + Sleeping Pad + Food Bag