When it comes to folding knives, the choice between washers and ball bearings is a critical consideration that can significantly impact their functionality. As American knife enthusiasts grapple with this decision, it's important to explore the nuances of these two options, their advantages, drawbacks, and the factors that guide their selection. In this in-depth analysis, we delve into the intricacies of washers and ball bearings, highlighting their distinctions, material preferences, performance attributes, and the key considerations that influence American knife aficionados.
Washers: Reliable Spacers for Knife Excellence
In the realm of folding knives, the opening and closing mechanisms stand as pillars of performance. Knife manufacturers employ both washers and ball bearings to elevate the functionality of these mechanisms. Washers, seemingly modest flat discs, serve as essential spacers positioned between the blade and the handle. Despite their apparent simplicity, these components wield significant influence over blade stability and operational smoothness.
The Significance of Washer Size
The size of washers carries paramount importance. A larger washer translates to enhanced blade stability. This dimension becomes crucial when anticipating rugged cutting tasks or prolonged knife usage. Opting for a larger washer can substantially bolster a knife's durability and overall performance.
Materials of Choice: Phosphor Bronze and Teflon Washers
Two prominent materials dominate the landscape of washers: phosphor bronze and Teflon. Let's delve into the attributes of each:
Phosphor Bronze Washers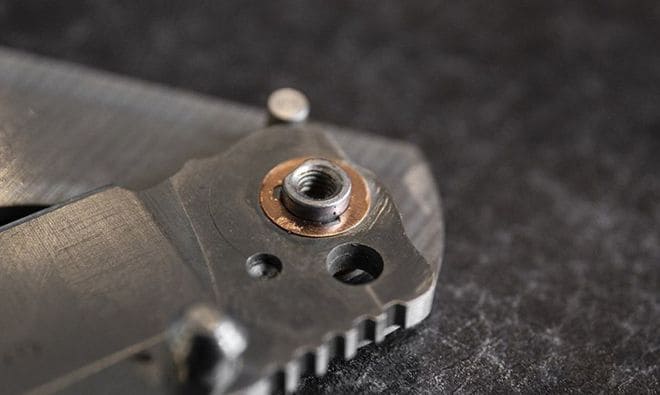 Phosphor bronze washers, distinguished by their copper hue, enjoy a prominent role in pocket knives. Comprising a blend of copper, phosphorus, and tin, these washers embody exceptional durability. The inclusion of phosphorus serves as a barrier against oxidation, a common concern with pure copper. These washers exhibit a low coefficient of friction, ensuring a fluid and seamless blade retraction and opening experience. Furthermore, when contrasted with ball bearings, washers exhibit lower susceptibility to dirt accumulation, ensuring consistent performance over time. However, it's essential to note that phosphor bronze washers require regular lubrication, as they are prone to rapid wear when devoid of lubrication.
Teflon Washers: The Epitome of Resilience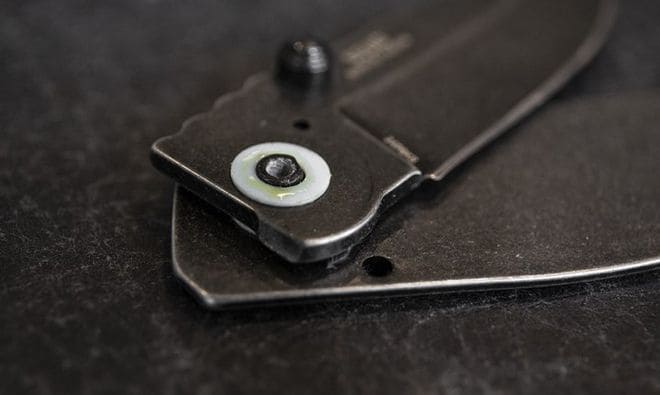 Teflon, also known as polytetrafluoroethylene (PTFE), enjoys recognition as the epitome of resilience, particularly as a non-stick coating in culinary pans. Originating from advanced NASA research, Teflon finds versatile application in the realm of knives due to its exceptional attributes. With a low coefficient of friction and inherent nonstick properties, Teflon serves as an exemplary self-lubricating material. Unlike other materials, Teflon resists moisture absorption and boasts exceptional corrosion resistance. Coupled with its remarkable mechanical properties, Teflon emerges as a top-tier choice for washers.
The Pros and Cons of Teflon Washers
However, Teflon is not devoid of limitations. While it offers remarkable self-lubricating properties, connoisseurs of knives might choose to apply a modest amount of oil to amplify its performance. A notable drawback of Teflon washers lies in their susceptibility to denting and deformation when exposed to significant side pressure. Notwithstanding this drawback, the advantages of Teflon washers, especially their self-lubrication and resistance to rust and corrosion, render them an appealing choice for discerning American knife enthusiasts.
Ball Bearings: The Pursuit of Operational Fluidity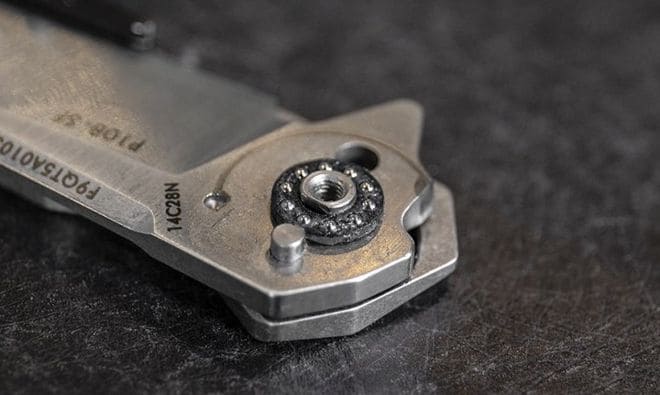 In recent years, the art of fin knife deployment has surged in popularity within the realm of folding knives. This surge has led to the increased utilization of ball bearings, contributing to the seamless and swift opening mechanisms of knives. Initially reserved for premium tools, ball bearings have transcended their exclusivity and found their place in more budget-friendly folding knives, exemplified by esteemed brands like ZT.
The Dichotomy of Ball Bearings
Analogous to washers, ball bearings share the objective of enhancing stability and operational smoothness in knives. However, they bring forth distinct challenges and advantages that differentiate them from washers.
Battling Rust and Accrued Debris
A primary concern with ball bearings centers around their vulnerability to rust. Additionally, ball bearings tend to accumulate debris over time, potentially hindering the knife's opening and closing functionality. Regular maintenance, including the use of compressed air to dislodge debris, is recommended for knives employing ball bearings. Furthermore, ball bearings necessitate frequent lubrication to mitigate friction-related issues and sustain optimal performance.
The Tale of Two Ball Bearing Materials: Steel vs. Ceramic
In the realm of ball bearings, two standout materials have emerged: steel ball bearings and ceramic ball bearings. The ascendancy of ceramic ball bearings can be attributed to their distinct advantages over their steel counterparts.
The Advantages of Ceramic Ball Bearings
Ceramic ball bearings are distinguished by their impressive hardness, often exceeding 80 HRC. This elevated hardness translates to enhanced functionality compared to stainless steel ball bearings. Notably, ceramic ball bearings demonstrate extended lifespans and reduced wear, overshadowing traditional steel variants. Their self-lubricating properties obviate the need for perpetual maintenance, a common demand for steel ball bearings. Furthermore, ceramics' resistance to rust eliminates a pervasive concern associated with steel materials.
Fragility Amidst Brilliance: The Drawback of Ceramic Ball Bearings
However, the merits of ceramic ball bearings come hand in hand with a caveat: brittleness. Their high hardness renders them relatively fragile, increasing the risk of breakage. This vulnerability prompts American knife enthusiasts to occasionally replace ceramic ball bearings to ensure sustained functionality.
Innovative Approaches and Considerations
Beyond the established categories of washers and ball bearings, knife manufacturers continue to innovate with unique approaches. For instance, some knives incorporate bearings directly into the handle, streamlining the opening and closing mechanisms. The Spyderco Pingo serves as a prime illustration, integrating internal protrusions to facilitate seamless knife operation.
Performance Comparison: Washers vs. Ball Bearings
In terms of performance, washers and ball bearings offer distinct attributes that cater to diverse preferences and scenarios. Let's delve into these discrepancies:
Smoothness and Operational Fluidity: Washers deliver exceptional smoothness with minimal disruptions, particularly with PTFE washers. Conversely, ball bearings prioritize unbridled movement, which might entail a marginal trade-off in smoothness.

Deployment Speed: Ball bearing knives typically exhibit swifter deployment due to reduced contact surface and friction.

Cleaning Challenges: Ball bearing knives are more susceptible to dirt and grime accumulation than washers. Washers excel in maintaining cleanliness.

Structural Robustness: Washers confer heightened stability owing to comprehensive shaft support, a characteristic that ball bearings may lack.

Rolling Sensation: Ball bearings introduce a rolling sensation during blade movement, which might differ from the smoother experience offered by washer-based knives.
The Ultimate Choice: Purpose-Driven Decision Making
In summation, the choice between washers and ball bearings hinges on their inherent attributes and the intended purpose of the folding knife. Each option harbors distinct advantages and drawbacks that align with varying scenarios. Deliberate upon the following questions to steer your decision:
Is your usage environment prone to dust and dirt?

Do you prioritize seamless and rapid blade deployment?

Are you seeking a knife for leisure or practicality?

Will the knife endure light or heavy usage?

Is the knife predominantly intended for indoor or outdoor use?
Addressing these queries can provide valuable insights into whether washers or ball bearings resonate more closely with your requisites. Importantly, the decision is multifaceted, encompassing factors such as material, design, ergonomics, price, and personal preferences. Therefore, the ultimate choice rests upon the inclinations of the American knife aficionado!