A keychain is an essential everyday carry item for most people. But not just any keychain will do if you want durability, ease of use, and style. Titanium keychains check all the boxes with their extreme strength, lightweight design, corrosion resistance, and sleek aesthetic.
When selecting a titanium keychain for EDC, there are a few key factors to consider:
Durability - Titanium is highly scratch and corrosion resistant, able to withstand plenty of use and abuse. A titanium keychain will maintain its appearance and structural integrity through years of daily carry.
Portability - With a density almost half that of stainless steel, titanium offers an optimal balance of strength and low weight. A titanium keychain adds negligible bulk to your EDC while providing peace of mind.
Security - Many titanium keychains offer innovative quick-release mechanisms or concealed tools for self-defense. These features allow for secure attachment of your keys while providing access when needed.
Style - From colorful anodized finishes to sleek bead-blasted designs, titanium keychains look good on any key ring. Their modern aesthetic elevates the ordinary keys-on-a-ring look.
To help you choose the perfect titanium keychain for your everyday adventures, here are five top-rated picks that provide exceptional durability, portability, security, and style:
The Best Concealed Carry Keychain: FEGVE TI067

The Best Budget Keychain: OLIFE OTiCB01

The Best Overall Keychain: KEYUNITY KM00

The Best Innovative Keychain: OKNIFE Otacle R1

The Best Bottle Opener Keychain: KEYUNITY KM01



| | | | | | |
| --- | --- | --- | --- | --- | --- |
| Brand | FEGVE | OLIFE(Olight) | KEYUNITY | OKNIFE(Olight) | KEYUNITY |
| Thumbnail | | | | | |
| Product name | FEGVE TI067 | OLIFE OTiCB01 | KEYUNITY KM00 | OKNIFE Otacle R1 | KEYUNITY KM01 |
| Type | Concealed Carry Keychain | Keychain Carabiner | Quick-release Belt Clip Keychain | Magnetic Quick-release Keychain | Keychain Clip with Bottle Opener |
| Price | $59.99 | $6.99 | $21.99 | $14.99 | $13.99 |
| Materials | TC4 Titanium alloy | Titanium alloy | Titanium alloy | TC4 Titanium alloy | Titanium alloy |
| Weight | 1.1 oz | 0.32 oz | 0.35 oz | 0.25 oz | 0.21 oz |
| Dimensions | 0.83 inch | 0.15 x 1.14 x 2.4 inch | 2.3 x 0.39 inch | 1 x 0.43 inch | 2.05 x 0.89 inch |
| Unique | A Hidden Blade | Single-Piece Construction + Dual-Compartments Connecting | S-shaped + Flag & Stonewashed Optionals | Bead-lock mechanism | Stonewashed and Sandblasted Suface(worn ressistance) |
| Rating | 5 Stars / 2 Reviews | 5 Stars / 22 Reviews | 5 Stars / 43 Reviews | 5 Stars / 17 Reviews | 5 Stars / 35 Reviews |
FEGVE TI067: Ti Keychain with A Concealed Blade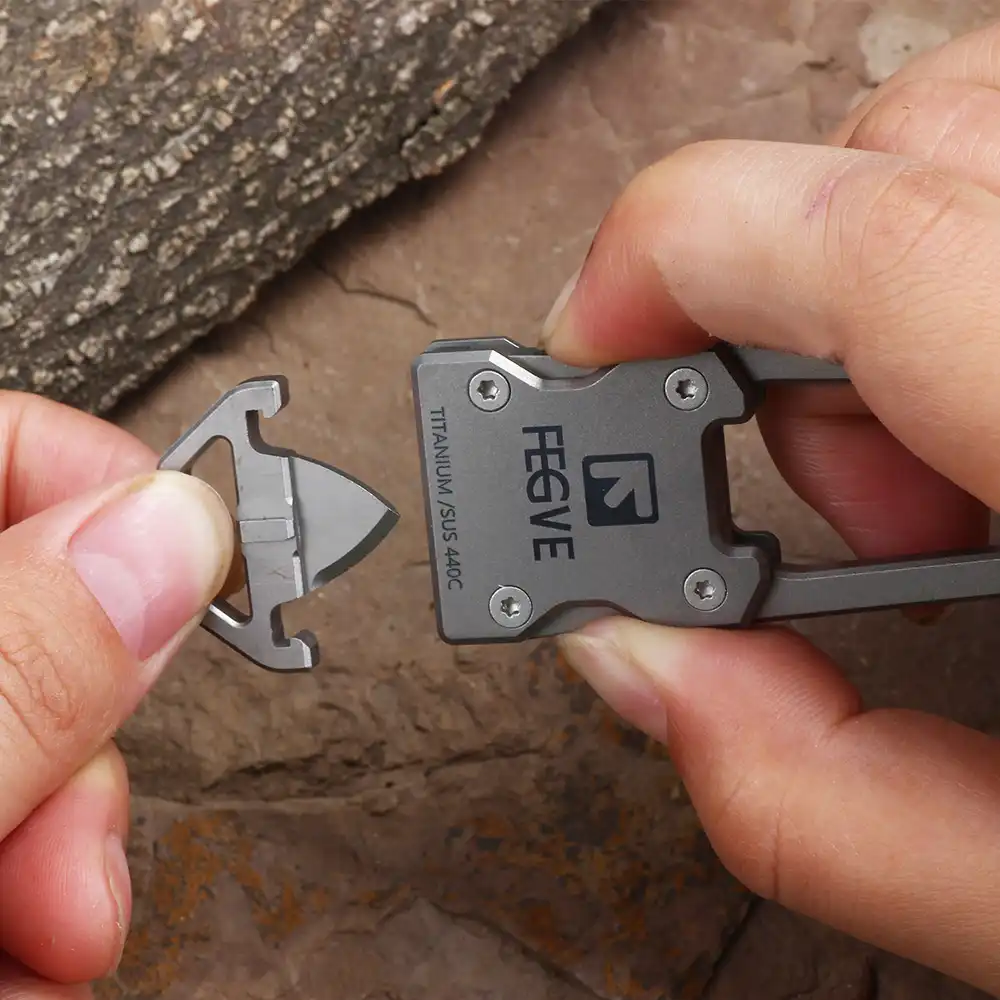 Those seeking discreet personal protection will appreciate the FEGVE TI067 titanium keychain. It features a concealed 1.4-inch 440C stainless steel blade that can be quickly deployed with one hand.
The beastly titanium alloy construction provides extreme durability while keeping weight down for comfortable all-day carry. And the bead-blasted finish gives this keychain a rugged, utilitarian look.
With its concealed carry blade, the FEGVE TI067 keychain provides peace of mind and preparedness for unexpected situations. The ability to access a sharp blade instantly with one hand is a plus for emergency cutting needs or self-defense.
OLIFE OTiCB01: Ti Keychain Carabiner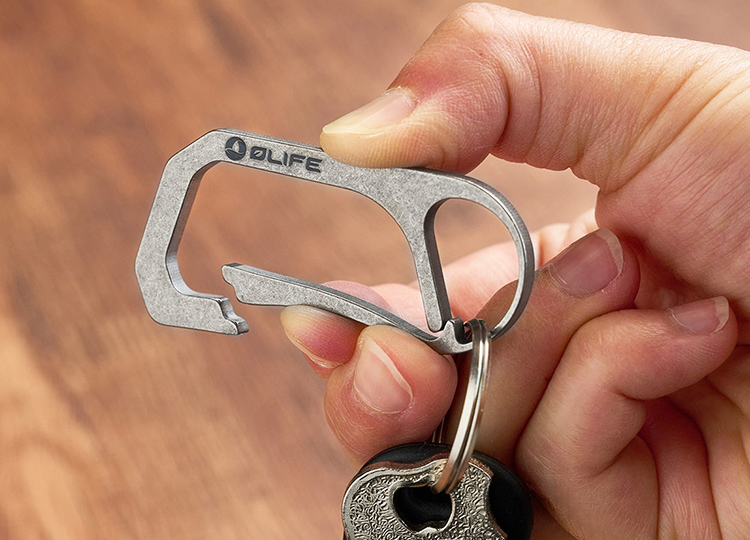 Boasting a minimalist design with maximum utility, the OLIFE OTiCB01 is a super lightweight titanium carabiner keychain. At just 0.32 ounces, it's easy to carry while providing a secure attachment point for keys and gear.
The bead-blasted titanium alloy construction gives this keychain exceptional durability and corrosion resistance. Single-piece construction and a dual-compartment design allow for multiple connection points while maintaining a slim, streamlined profile.
As an affordable titanium keychain option, the OTiCB01 makes a perfect entry-level EDC upgrade. Its secure snap-closure gate lets you conveniently clip it to belt loops, bags, or packs for quick access on the go.
KEYUNITY KM00: Ti Quick-release Belt Clip Keychain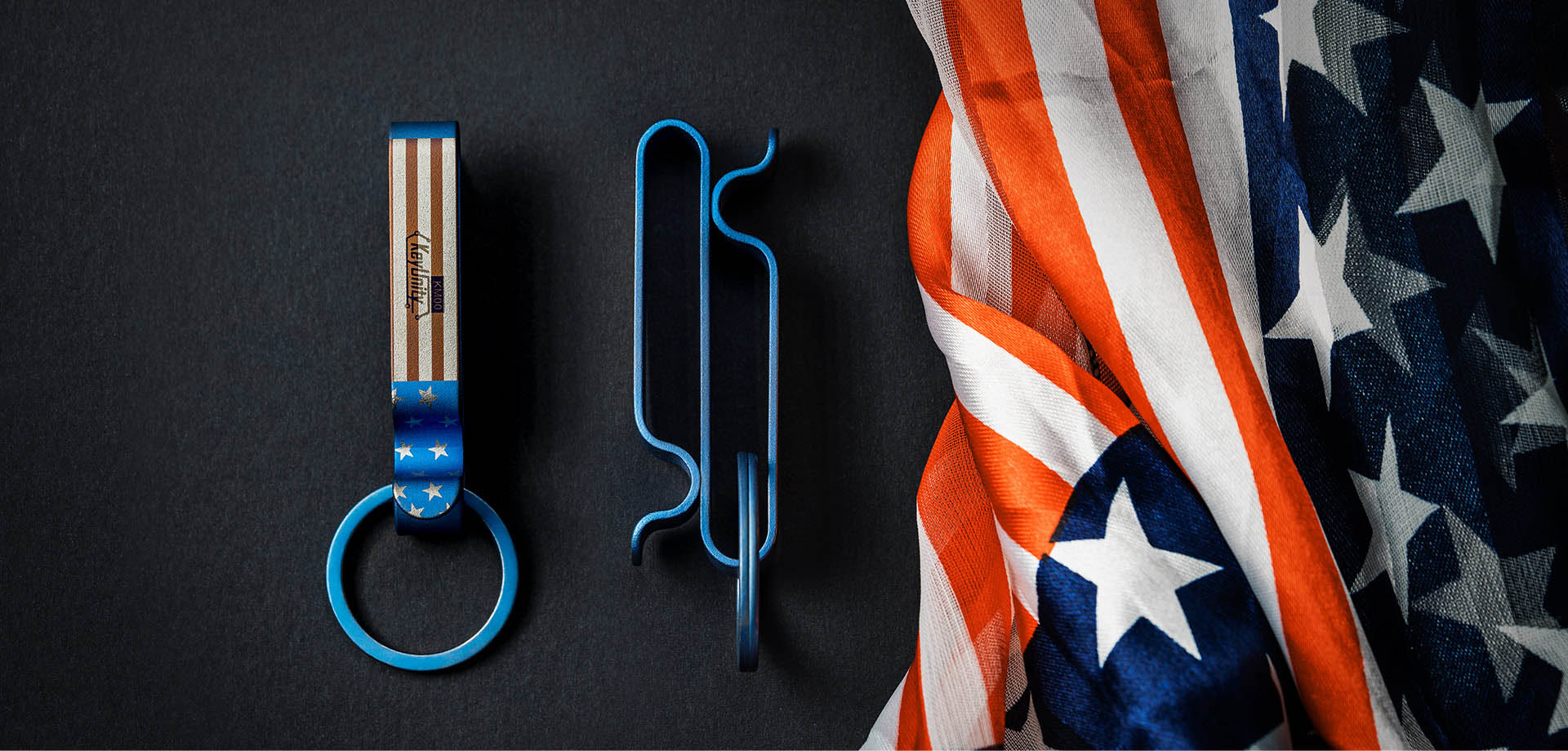 An easy-to-use quick-release system sets the KEYUNITY KM00 apart from typical keychains. It allows you to securely attach keys for carry while offering one-handed quick detachment as needed.
Precision machined from titanium alloy, this keychain features an ergonomic S-shaped design that's optimized for belt carry. The curvy shape and smooth stonewashed or sandblasted finish ensure comfort and allow keys and tools to hang neatly and silently.
A small locking barrel secures the quick-release lever until pressed, then instantly frees the keys from the steel split ring. This smart modular system enables fast access to individual items without fumbling with keys awkwardly clipped to belts or pockets.
OKNIFE Otacle R1: Ti Magnetic Quick-release Keychain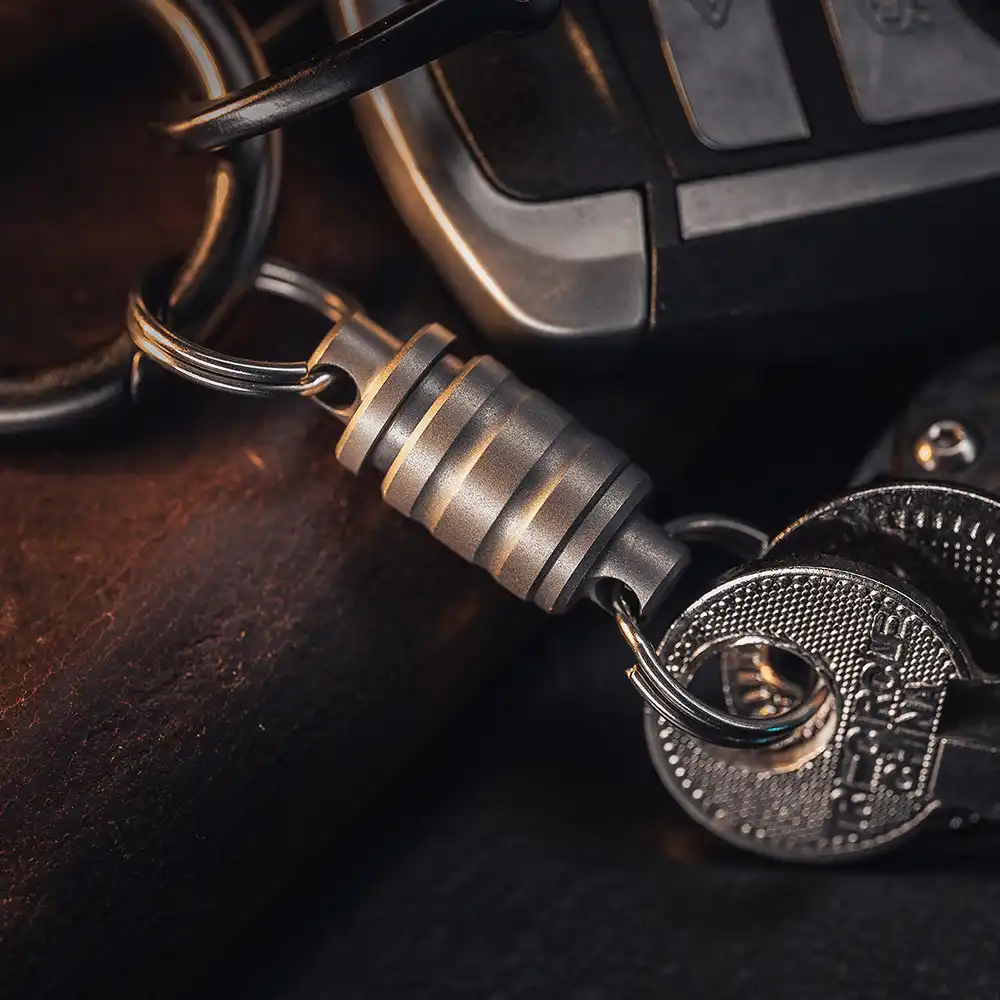 Merging security and accessibility, the OKNIFE Otacle R1 titanium keychain uses magnetic quick-release technology. A ball bearing lock keeps keys securely attached during carry. But when you need to detach your keys, simply pull the bead chain to release the magnet.
The innovative bead-lock and magnetic system enables nearly effortless one-handed key retrieval without compromising carry stability. And the titanium alloy construction ensures this cool modern keychain will hold up well for years of everyday use.
For quickly accessing keys and tools on the go while keeping essentials locked down during carry, the Otacle R1 offers easy operation in a futuristic titanium form factor.
KEYUNITY KM01: Ti Keychain Clip with Bottle Opener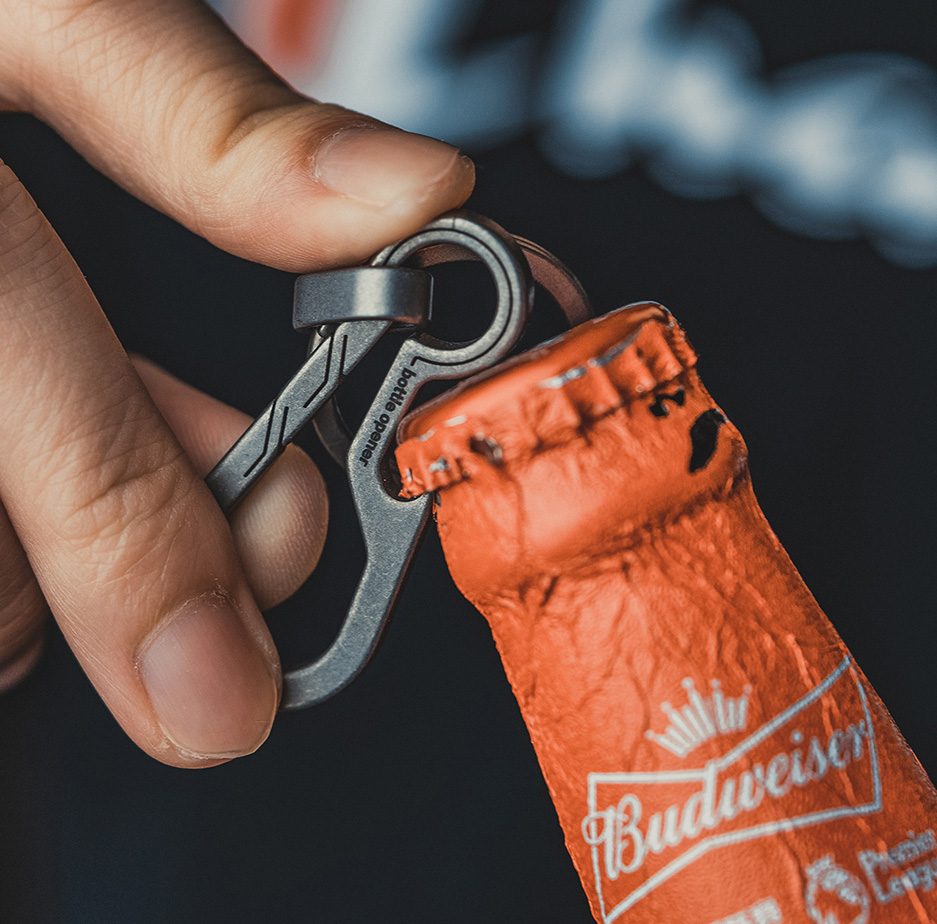 Merging function and style, the KEYUNITY KM01 titanium keychain features an integrated bottle opener for quick access to your favorite brews. The opener's curved hook design and dimpled surface provide excellent grip and leverage for smooth cap removal.
This handy keychain clip securely holds keys in place while providing a convenient tool for your everyday adventures. Made of durable titanium alloy with unique stonewashed and sandblasted finishes, the KM01 adds stylish utility to any key ring setup.
Slim, lightweight, and durable, the KM01 titanium bottle opener keychain is a perfect accessory for modern EDC. With its urban industrial aesthetic and handy functionality, you'll want to pop caps in style wherever you roam.
Final Thoughts
In the world of EDC, every detail matters. Each of these titanium keychains not only holds your keys but also elevates your daily experience. From concealed blades to innovative mechanisms, these keychains exemplify the synergy between design, utility, and style.
Whether you're looking for a budget-friendly option or an all-encompassing EDC companion, the realm of titanium keychains has something for every discerning individual. Choose wisely, and let your keychain become an extension of your preparedness and personal style.