One of the best parts of hammock camping is the versatility it allows. With the right tarp, you can pitch your shelter in forests, deserts, beaches - even your own backyard. But how do you choose what size tarp is best for your adventures? Here are some tips for selecting the ideal tarp that will keep you dry and comfortable on your hammock camping trips.
Consider Your Height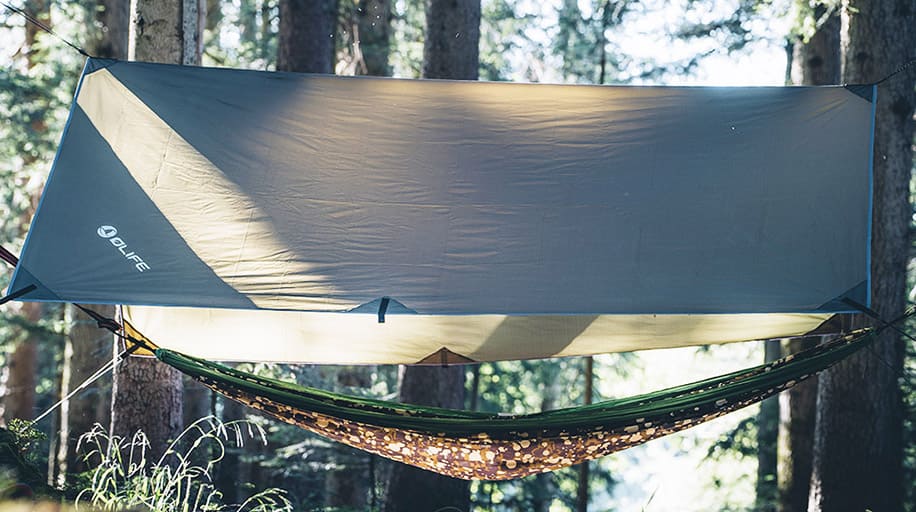 The first factor to think about is your height. Most camping hammocks are 9 to 11 feet long. You'll want a tarp that's at least 2 to 3 feet longer than your hammock so there's adequate coverage over your head and feet.
For reference, here are common tarp size recommendations based on height:
5' to 5'6" - 9x9 ft to 10x10 ft

5'6" to 6' - 10x10 ft to 12x12 ft

Over 6' tall - 12x12 ft or larger
So if you're 5'10" and have a 10 ft hammock, a 12x12 ft tarp would provide ample overhead and foot coverage. The extra size also allows you to pitch your tarp in different ways, like steeper angles for more weather protection.
Consider Climate and Weather
Think about the conditions you'll most likely be camping in. Do you need just a basic rainfly or more enclosure for windy alpine environments?
For mild weather, a square or hexagonal tarp can provide basic overhead shelter. But for stormier conditions, an asymmetric diamond shape gives more adjustable coverage off to one side. Or you can opt for a full coverage hex tarp with doors for 360 degree protection.
More open, low-profile tarps work well for camping in hot, humid climates where ventilation is key. While you'll want more enclosure from larger, steeply pitched tarps in cold, wet conditions.
If you camp in varied conditions, choose a more versatile mid-size asymmetric tarp, around 10x12 ft. This allows for multiple pitching configurations.
Consider Different Pitching Options
The shape and size of your tarp determines how you can pitch it. Smaller square tarps only allow for basic overhead coverage. While larger rectangular or diamond shaped tarps can be pitched in different angles to provide more shelter off to the sides or overhang at the foot end.
Larger tarps, around 12x12 ft or more, also give you room to create a "porch". This provides a sheltered sitting area under the tarp for cooking, relaxing or storing gear.
Here are some common tarp shelter configurations:
Square/rectangle - Basic overhead shelter

Plow point - Angled to one side for weather protection

Flying diamond - Suspended away from hammock for views and ventilation

Fully enclosed - Wrapped around hammock for full coverage
So consider what styles of pitching you want for weather protection, views or privacy when choosing tarp size.
Take Weight Into Account
Larger hammock tarps obviously weigh more. Most ultralight backpacking tarps weigh around 16-20 oz for silnylon and rigid polyethylene materials. While heavier canvas tarps can weigh 24-48 oz.
Weight might not matter as much for car camping. But for treks on foot, consider if you want to carry a sprawling 12x12 ft tarp or if a snug fitting 10x10 tarp will suffice and save weight.
You can also trim weight with tarps made of lightweight materials like silnylon, spinnaker fabrics or Dyneema composites. Just keep in mind that more open, breathable fabrics trade off weather protection compared to solid tarps.
Assess Packed Size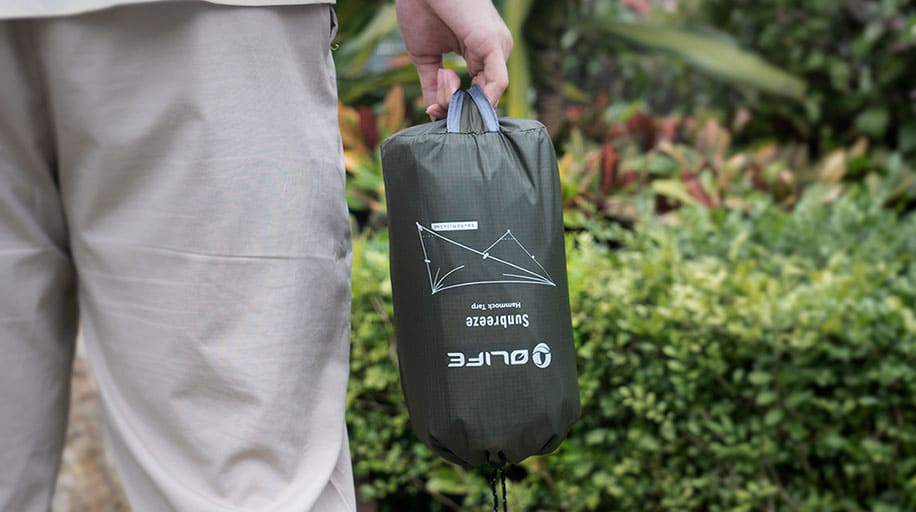 Backpackers need to think about packed size too. Look for tarps that compress down well. Silnylon and some Dyneema tarps compress into tiny bundles compared to bulky canvas tarps.
For reference, a 15 oz, 12x12 ft silnylon tarp can pack down to about the size of a 1 liter water bottle. While a 28 oz canvas tarp compresses to the size of a football or larger.
So consider how much space you have in your pack to decide if you should size up or down. And look for design features like removable stake loops that help tarps pack down smaller.
Choose Quality Materials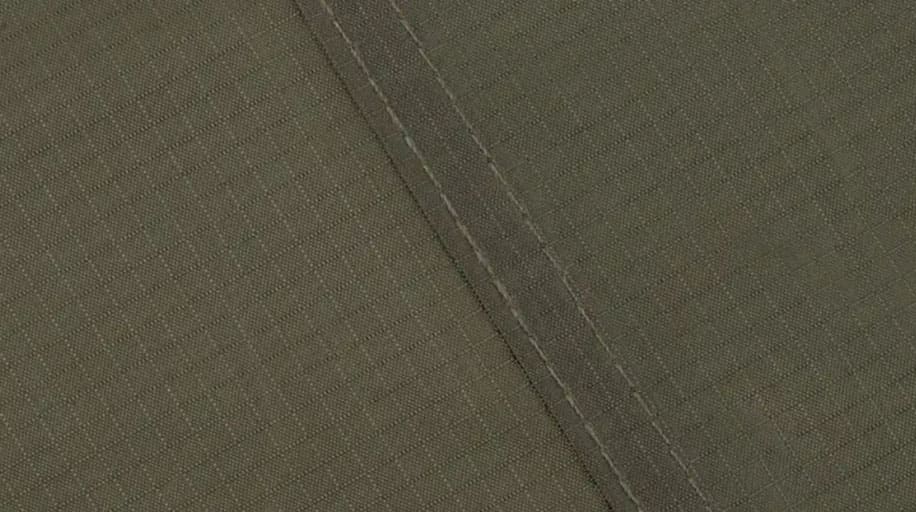 Don't skimp on tarp materials - this is your shelter overhead! Look for waterproof, ripstop fabrics like silicone coated nylon or polyurethane coated ripstop nylon. Avoid cheap blue plastic tarps which can rip easily.
Also consider tarp fabric thickness. Thinner 1.1 oz silnylon packs smaller but is more prone to tearing. While heavy duty 1.6 oz fabrics are more durable but also heavier.
For ultralight tarps, look for advanced materials like Dyneema composite which offers an excellent strength-to-weight ratio. Some Dyneema tarps weigh just 9-10 oz but are as robust as silnylon twice their weight.
Take the Time to Compare
With all these factors to balance, take your time comparing different tarp sizes and specifications. Set up demos at the store if possible so you can assess factors like packed size, coverage and pitching configurations.
Browse customer reviews and videos to see how tarps perform in actual conditions. And read about warranty coverage - quality tarps will have warranties of 1-3 years or more against defects and workmanship.
Consider Multiple Tarps
An option is to have a couple different sized tarps for different conditions. Keep a large rectangular tarp at base camp for an enclosed communal space. Then bring a smaller square tarp for basic overhead shelter on backpacking overnights.
Having options allows you to customize shelter for each trip. And you can lend out a tarp to friends who join you. Though this does require a higher investment upfront.
Hammock Tarp Waterproof or Not?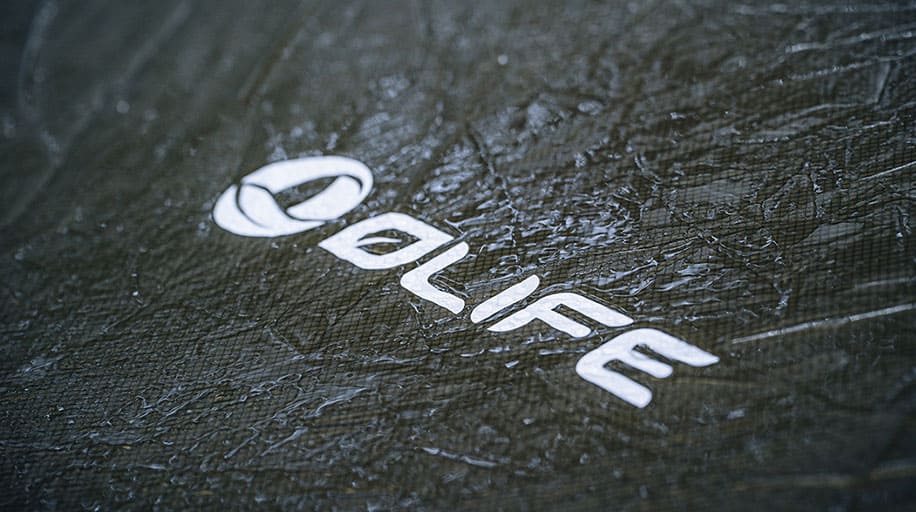 A tarp is critical to ensure pleasant hammock camping in any weather. With so many factors to consider like size, shape, fabric, weight and packed dimensions, take your time assessing options to find your optimal match.
Choosing the right tarp takes some upfront planning. But having the perfect shelter overhead will let you focus on enjoying the views, sounds and experience - not staying dry. With the right tarp, you can hammock camp anywhere in total comfort.
No, tarps are not 100% waterproof. This is because most tarps are made from polyethylene, which is a type of plastic material. Although polyethylene is highly water resistant, it does not provide complete, waterproof protection because the material is not completely impermeable.
Water can still seep through, especially if the tarp is exposed to heavy rain or if there are holes or tears in the fabric. Tarps also come in different grades, which can affect their waterproofness. The lower the grade, the more likely it is that the tarp will be less waterproof.
For example, a light-duty tarp may provide some protection from light rain, but it will not be able to provide complete waterproof protection. On the other hand, a heavy-duty tarp may be able to provide more complete waterproof protection, but it may also be more expensive. In addition, the way a tarp is used can also affect its waterproofness.
For example, if the tarp is not securely attached to the ground or other objects, it could be vulnerable to wind and rain, allowing water to seep in. If the tarp is not adequately taut, water can also pool on the fabric, which can lead to leakage.
Overall, tarps are not 100% waterproof, however, they can provide a good level of protection from light rain, wind, and other elements. If you need complete waterproof protection, you should look for a higher-grade tarp that is properly secured and tensioned.
Hammock Tarp Thickness
The thickness of the tarp you need will depend on the purpose for which you plan to use it. If you plan to use it for camping, then you will want a thicker tarp for protection from the elements. If you are looking for a tarp to cover a patio or other area, then you may only need a light weight tarp. When considering the thickness, also think about the material.
A tarp made from heavy-duty vinyl or canvas will be more durable than a tarp made from a lightweight plastic. A heavier material will also be able to withstand more wear and tear, and will last longer. Thinner tarps are usually more affordable, and they are easier to store and transport. They can also be more easily cut to fit your specific needs.
However, they may not be as durable as thicker tarps. In general, you should choose a thickness that is appropriate for your intended use. If you are looking for a tarp for camping, then you should look for a tarp that is at least 10 millimeters thick.
If you are looking for a tarp for a patio, then a lighter-weight tarp might be sufficient. If you plan to use it for a roof, then you will need a tarp that is at least 20 millimeters thick. Overall, the thickness of the tarp you need will depend on the purpose for which you plan to use it. Consider the material and the intended use, and choose a thickness that is appropriate. If you are unsure, it is best to err on the side of caution and choose a thicker tarp.