An EDC (Everyday Carry) pouch is an essential accessory for anyone who wants to stay organized and prepared. As the name suggests, an EDC pouch contains items you may need on a daily basis throughout your day. With the right EDC pouch and contents, you'll always be ready for whatever life throws at you. In this comprehensive guide, we'll cover everything you need to know about EDC pouches including what they are, what to put in them and how to carry them.
What is an EDC Pouch?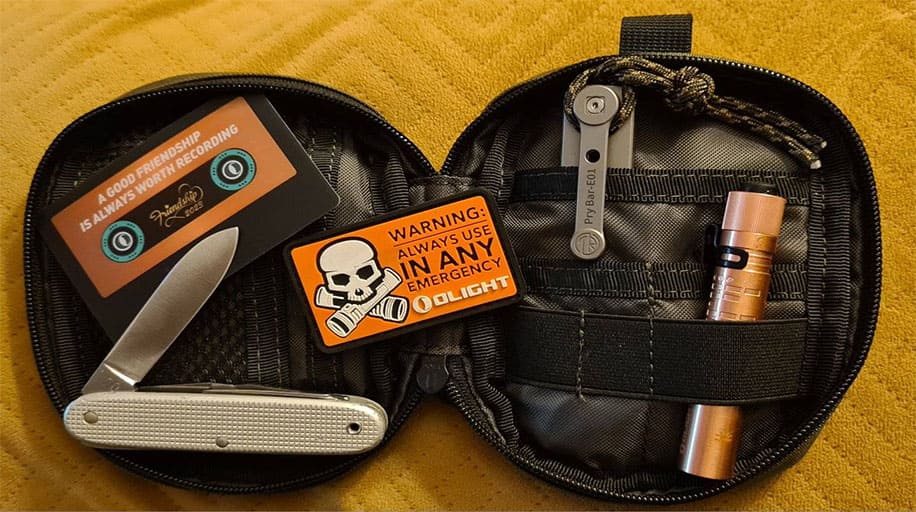 An EDC pouch is a small bag or organizer designed to hold your most important daily carry gear. It allows you to keep small essentials close at hand without stuffing your pockets. A good EDC pouch is lightweight and compact yet large enough to carry critical items. It should be made of durable materials with easy access and organization.
The ideal EDC pouch has enough volume to carry the gear you need on a regular basis. Look for pouches in the range of 6 x 4 x 1 inches up to around 8 x 5 x 3 inches. High quality materials like 1000D nylon cordura or ripstop polyester are durable while keeping weight down.
Key features to look for include MOLLE webbing for modular attachments, external pockets, and internal organization. Durable zippers, quality stitching, and weather resistance also help an EDC pouch last a long time.
EDC pouches are useful for containing items you use frequently such as tools, tech gadgets, medical supplies, and emergency equipment. They provide quick access to items when you need them. An EDC pouch ensures you have your essential gear arranged neatly in one place instead of scattered loosely in pockets or a backpack.
Having an EDC pouch allows you to be prepared for unexpected situations. You can customize the contents based on your lifestyle and needs. Some common items to include are a pocket knife, flashlight, multi-tool, pens, batteries, chargers, cash, identification, and first aid supplies.
EDC Pouch Contents: What to Put in Your EDC Pouch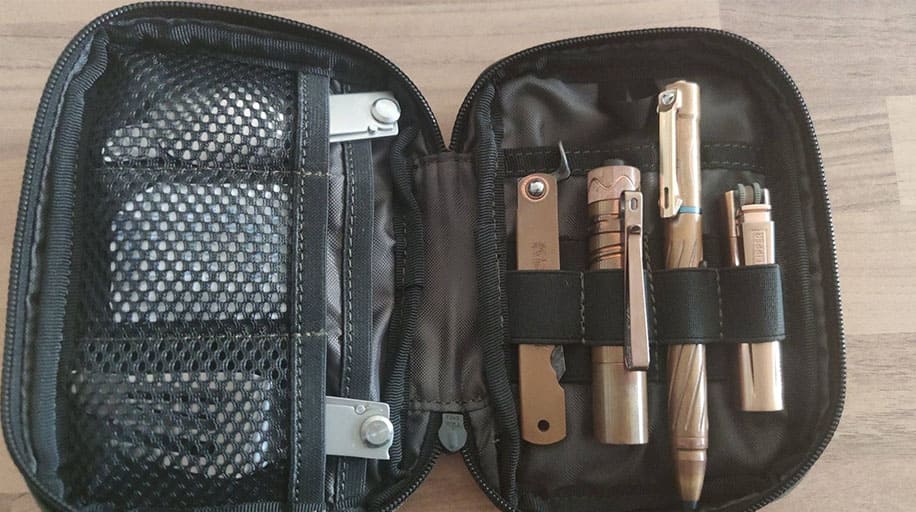 The best part about an EDC pouch is tailoring it to your unique carry. Consider your daily habits, hobbies, profession and prepare your pouch accordingly. Here are some ideas for customizing your EDC pouch contents:
General EDC Items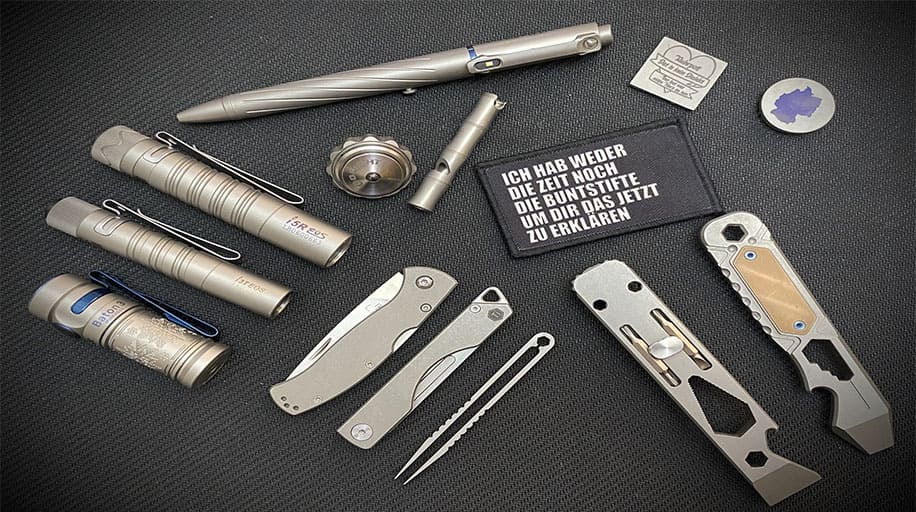 A solid foundation of general everyday carry gear will cover a wide range of common needs. A quality folding knife, LED flashlight, and multitool form an EDC base. Add a pen and notebook for jotting quick notes and making lists. A lighter creates fire while spare batteries power electronics. A bandana offers a surprising number of uses from first aid to camping utility.
● Pocket Knife: A good folding knife with a 3 to 4 inch drop point blade offers everyday utility for cutting, slicing, and more. Look for high-quality steel blades that hold an edge, like D2 steel or 154CM. Top options include the OKNIFE Borzoi Gentleman's Folding Knife and KIZER Drop Bear Folding Knife V3619C1.
● Multitool: A quality multitool packs useful tools like pliers, screwdrivers, scissors, and a knife into a compact, pocket-sized unit. NEXTOOL Silver Blade EDC Tool makes excellent versatile options.
● LED Flashlight: A compact LED flashlight with at least 300 lumens lights up dark spaces and can be used for signaling and self-defense if needed. Choose one with multiple modes like high, low, and strobe. A Flat and ultra-thin Olight Arkfeld the ideal for EDC.
● Pen: A tough pen that writes smoothly is an EDC must-have. The Fisher Space Pen pressurized ink cartridge writes in any conditions. Or go for a stylish titanium pen from BigIDesign that takes common D1 refills.
● Notebook: Jot notes, make lists, and scribble reminders in a slim, durable notebook like the Rite in the Rain. Look for all-weather paper, a back pocket for storing items, and a lay-flat binding.
First Aid/Emergency Supplies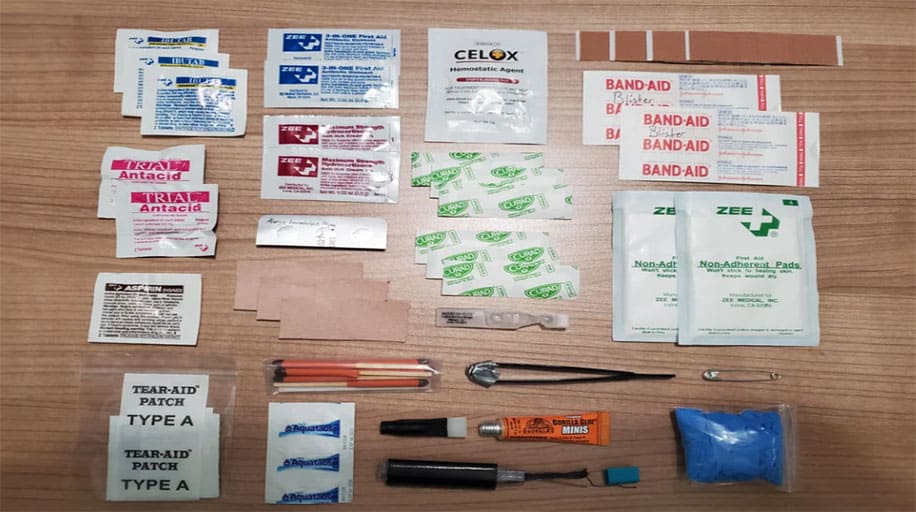 You never know when a medical or survival emergency can occur. Be prepared with a compact first aid kit containing supplies to treat injuries. Pack medications you normally use plus medical gear for sprains, cuts, and scrapes. A whistle, space blanket and water purification empower survival in the outdoors. IDs, cash, and copies of important documents help handle emergencies.
● Medicine Storage: Keep single doses of pills organized in a miniature titanium capsule like the CountyComm Titanium Keychain Pill Holder.
● Medical Info Storage: Carry paper copies of your medical information, health insurance, emergency contacts, and any prescriptions in a protective Doc Sleeve or Stormproof Pouch. You can also engrave your medical details onto titanium tags or cards.
● Signaling Whistle: A loud emergency whistle like the Oknife Owhistle can signal for help if injured or lost. Get an attention-grabbing titanium whistle for everyday carry.
Outdoor/Adventure Items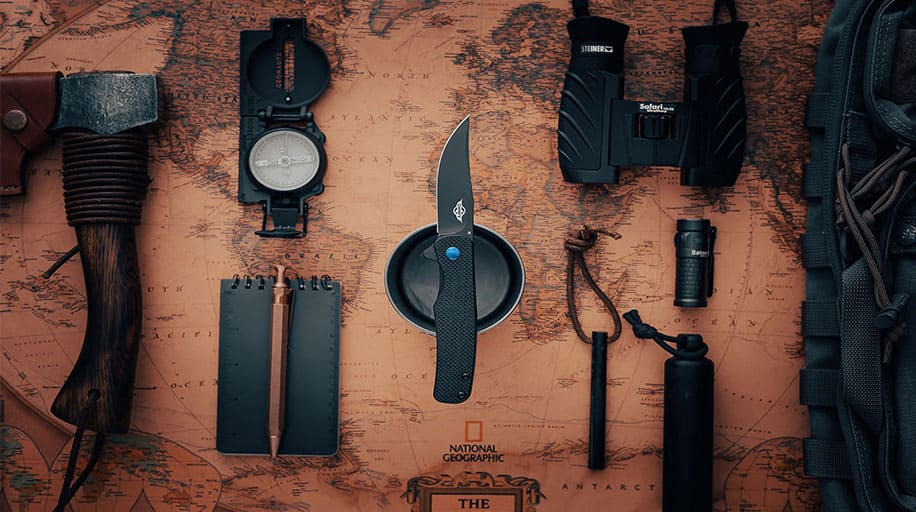 Heading into the wilderness? Supplement your EDC pouch with gear for outdoor survival. A compass and paracord are two essentials for wilderness navigation and constructing improvised shelters. Fire starting ability is critical – carry weatherproof matches, tinder and a lighter. Pack a pocket saw for gathering firewood and building shelters. A basic fishing kit, snare wire and signal mirror provide contingencies for procuring food and signaling for help.
● Compass and Paracord: Navigation in the wilderness is paramount. Ensure you have a reliable compass to keep your bearings. Additionally, include sturdy paracord for various purposes, including constructing improvised shelters.
● Weatherproof Matches: Opt for weatherproof matches to guarantee fire ignition even in damp conditions.
● Tinder: Pack dry tinder to facilitate quick fire ignition.
● Lighter: A lightweight, waterproof aluminum lighter like the Exotac titanLIGHT is a reliable choice, weighing only 2 ounces.
● Pocket Saw: Gathering firewood and constructing shelters is made easier with a compact pocket saw. This tool should be an integral part of your wilderness gear.
● Fishing Kit: Include a basic fishing kit to procure food from nearby water sources. Fishing gear can be a valuable asset for sustaining yourself in the wild.
● Snare Wire: For additional food procurement options, carry snare wire. This versatile tool allows you to set traps for small game.
● Signal Mirror: In case you need to signal for help, a signal mirror is a lightweight and effective means of attracting attention.
Additional Gear:
● Axe: The Oknife Otacle A1 Multifunctional Hatchet, with its three tools-in-one design, is an excellent choice for chopping wood, cutting, and other outdoor tasks.
Student EDC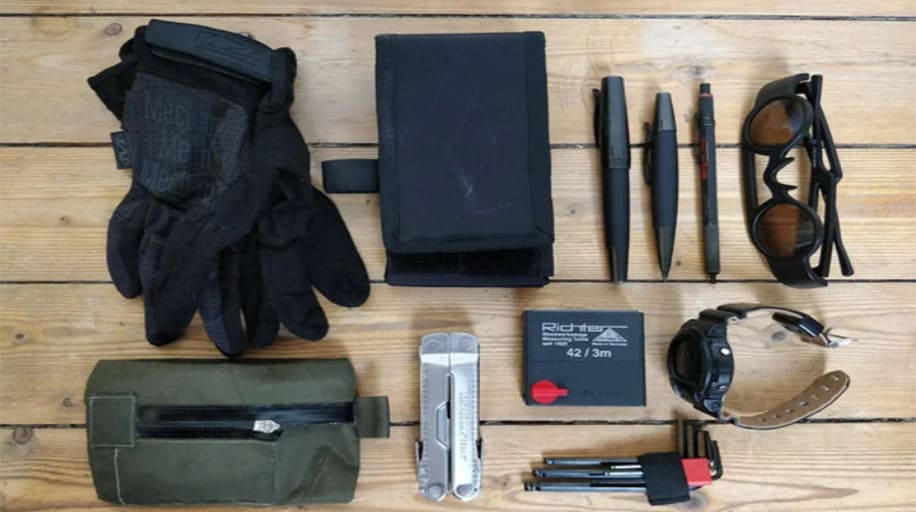 Students have unique everyday carry needs centering around tech, studying, and campus life. Earphones allow you to listen to music or lectures while commuting. Portable chargers and spare batteries keep devices powered up between classes. Student ID provides access to dorms, events, and dining halls. Index cards are great for making study flashcards and notes. Basic school supplies like pens, pencils, highlighters, calculator, and a USB flash drive round out student EDC essentials.
● Metal Wallet: Ditch the bulky leather wallet for a slim metal card holder like the Axwell Wallet that keeps just the essential cards and cash. Ultra thin and front pocket friendly.
● EDC Hank: A microfiber hankie serves a variety of EDC uses like first aid, wiping gear, emergency signaling and more. Get a USA-made Mighty Hanks with fun patterns.
● Sport Bottle: Stay hydrated on the go with a leakproof titanium water bottle like the Olife Water Bottle. Durable, lightweight and keeps drinks cold for hours.
● Keychain Knife: A tiny but capable folding knife like the Oknife Yucca clips right onto your keys for package opening and other cutting tasks. 1.69 inch blades are useful while staying pocket friendly.
Work EDC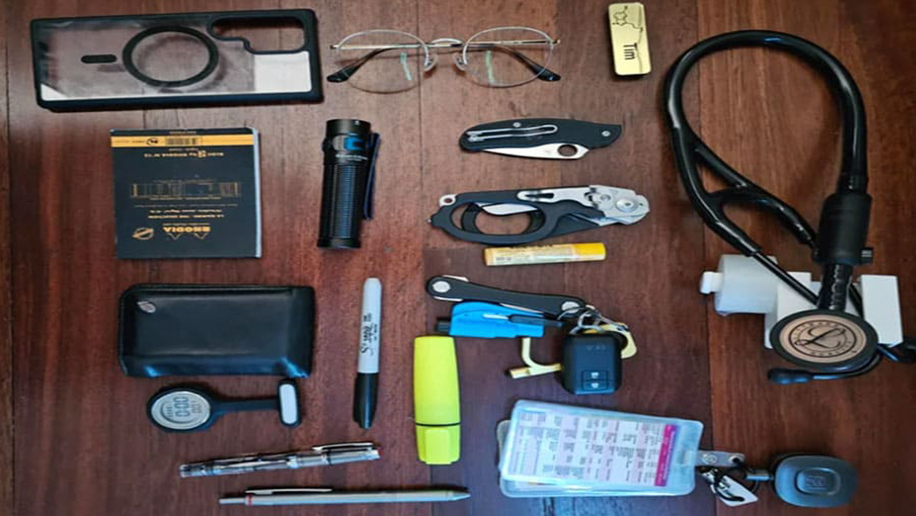 Equip your work EDC pouch for daily tasks and emergencies. Pack pens and a notebook for taking notes and lists. A flashlight illuminates dark spaces like server closets or construction sites. A multitool contains pliers, screwdrivers and more for quick repairs. A tape measure helps measure spaces and materials. Don't forget work essentials like business cards, badges and a flash drive.
● Tactical Flashlight: A tough, high-lumen flashlight like the Olight Warrior 3s provides maximum illumination for worksite tasks and emergency lighting. Look for durable aluminum bodies and 2300-lumen outputs.
● Metal Watch Band: Upgrade your Apple Watch with an adjustable lightweight carbon fiber watch band from PITAKA. It's corrosion-resistant and secures tightly for active use.
● Pocket Cleaver: FEGVE E206 Damascus Mini Cleaver slips into any pocket to open boxes, trim cordage, and handle other utility-cutting tasks. Damascus steel blade takes and holds an edge.
● EDC Folding Knife: The KIZER Assassin fits discreetly in a pant pocket ready for larger cutting and slicing jobs.
● Key Organizer: The Keybar key organizer streamlines your keys into a tidy pocketable unit. Holds up to 12 keys securely.
Tech EDC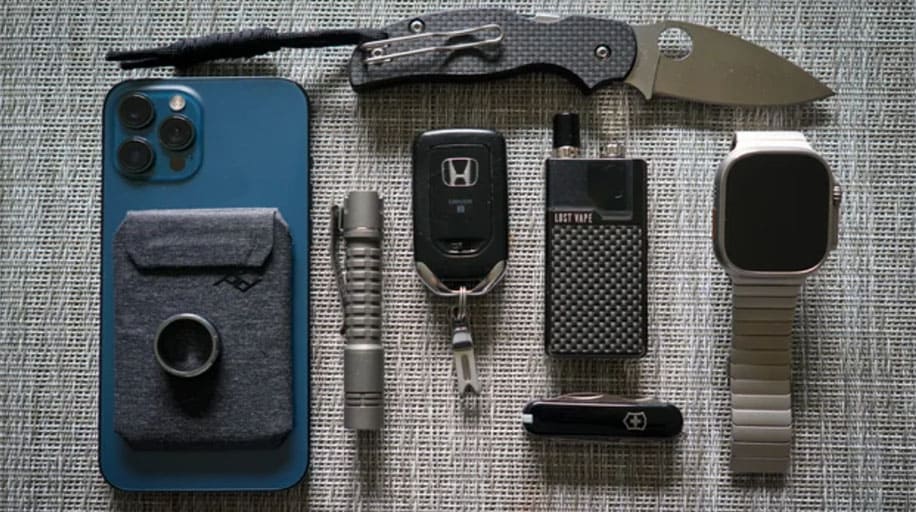 Tech gear gets heavy fast. An EDC tech kit lightens your load with essential tech for connectivity and productivity. Pack key charging cables, a backup power bank and mobile storage like a USB drive. Earphones allow you to listen privately. A mini tripod stabilizes your phone for capturing photos and video. External storage like an SSD drive or SD cards gives you added capacity to offload files and media.
● Power Bank: SHARGEEK Storm 2 provides a massive 25600 mAh battery capacity capable of charging laptops and phones multiple times over.
● Fast charger: Fast Charger: SHARGEEK Retro 35 GaN Charger offers a compact 35W USB-C PD wall charger for fast charging on the go. Weighing under 2 oz, it's perfect for travel.
Travel EDC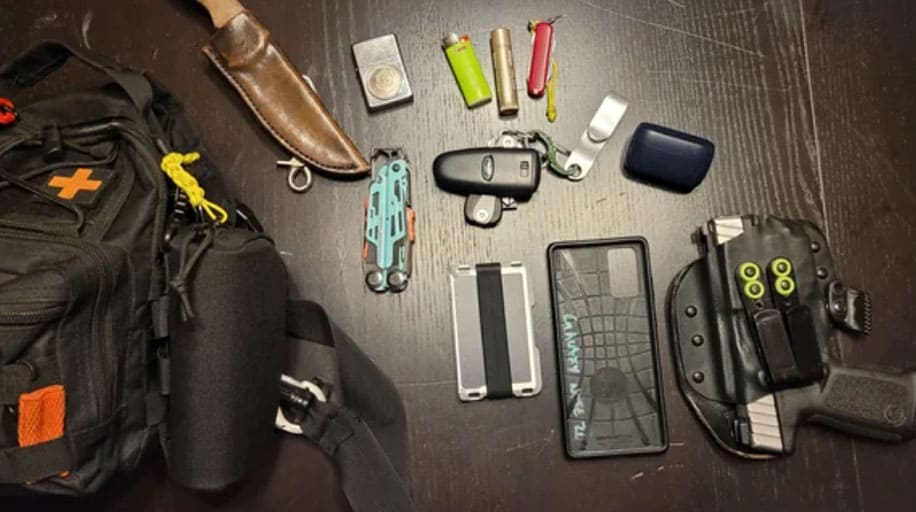 Stay comfortable and secure while traveling with a customized travel EDC kit. A neck pillow, earplugs and eye mask aid sleep. Carry your passport, itinerary printouts, IDs and other important travel documents. Use a small combination or TSA-approved lock to secure luggage. Keep some foreign currency on hand for taxis and transactions upon arrival. Adapter plugs enable charging devices abroad. A compressible daypack adds carry capacity once on the ground.
● Mini Wrench - The FEGVE E222 packs 3 handy tools - cap opener, small flat driver, and hex wrench - into a mini 1.1 oz titanium prybar perfect for keychains and tight pockets.
● Multi-Bit Driver - The OKNIFE Otacle D1 packs 4 double-sided hex bits into a handy titanium keychain driver weighing only 1.5 oz. Equips you for small repairs and tinkering.
● Prybar - The OKNIFE Otacle 2 Mini provides an ultracompact 1 inch titanium prybar with pocket clip and 3 built-in tools: pry tip, small flat driver, and bottle opener. Weighs a scant 0.6 oz.
● Keychain - The OKNIFE Otacle R1 Titanium Magnetic Quick-Release Keychain allows quickly detaching keys from your belt or bag. Weighs only 0.25 oz.
● TSA Multitool - The BIGiDESIGN TPT Slide is a TSA-compliant 6-in-1 titanium pocket tool with box cutter, bottle opener, screwdrivers and more. Perfect for air travel at just 1 ounce.
As you can see, the options for EDC pouch carry are vast. Include gear that's practical for your lifestyle and preparedness level. Remember to check your kit regularly and replace expired or worn out items.
EDC Pouch Setup: How to Carry Your EDC Pouch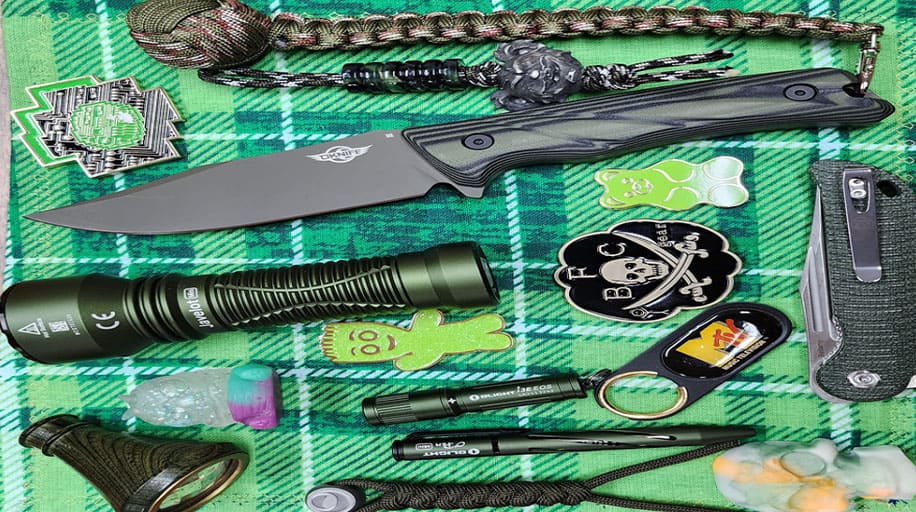 A well-stocked EDC pouch does no good unless you have it with you at all times. Here are some excellent options for carrying your EDC pouch:
Most of the time, we put a small bag filled with various EDC items into another bag to separate it from other unimportant items. But many times, for personal or other needs, we will place the pouch in other places, or directly carry it with other special types of pouches:
When the small bag carries too many items or cannot accommodate equipment that is too bulky, especially when carrying a laptop or tablet, then we will choose to put it in other bags with larger capacity, such as a messenger bag, sling bag, chest bag, commuter backpack with laptop sleeve.
As a minimalist pursuing lightweight, when carrying multi-functional tools, flashlights, pens, keys and other items, they usually choose EDC leather sheaths to hang on the belt. This sheath is usually made of flashlight holster, pen holder, multitool Structure composed of sheath, key organizer, such as VIPERADE PL3 EDC Leather Belt Sheath.
If the pouch is compatible with the Molle system, it can be connected to other Molle equipment. Such as MAXPEDITION Legacy Fatty Pocket Organizer.
If you are looking for extra storage and storage space, try EDC storage panels such as TACTICAL GEEK TCM MOLLE and Elastic Strap EDC Organizer Panel.
For those who like to carry Glock 17/19 or M&P magazines, or are compatible with multi-functional tools, flashlights, knives, batons, daggers, pepper spray and other items, the PSIGEAR Skewer Pistol Mag Pouch is chosen by tactical enthusiasts for its speed and lightness.
Deciding where to stash your EDC pouch comes down to personal preference, clothing and convenience. Test different carry options to see what works best. Consider ease of access, comfort, concealment and security when making your choice.
Having a well-stocked EDC pouch provides invaluable preparedness and organization in your daily life. Customize the contents to suit your lifestyle and needs. Choose a carry method that keeps your EDC close at hand. With the right pouch, you'll always be ready to tackle the day!